9yo girl hailed as hero after saving siblings from fire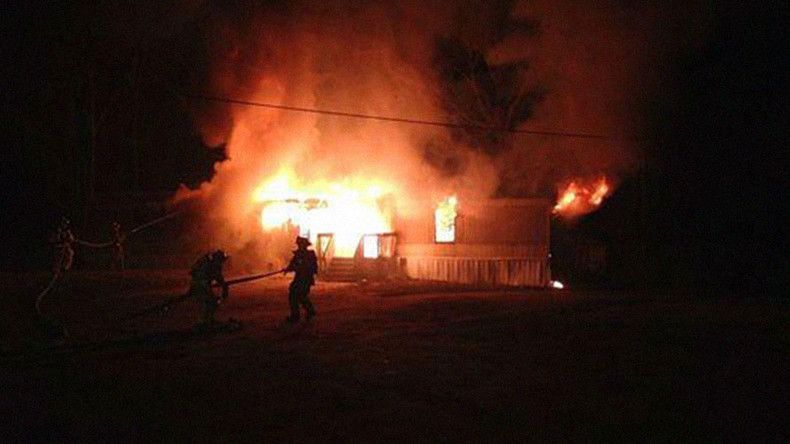 A nine-year-old Georgia girl is credited with saving her three siblings from their burning home while left alone. The boyfriend of the girl's mother was charged with cruelty to children.
Hall County Sheriff and Fire Services said the children were sleeping home alone Friday night when a fire broke out in their trailer home in Hall County, Georgia. The girl was awoken by a smoke detector alarm and found that thick smoke was filling the trailer. Authorities say she sprang into action and gathered her one-year-old brother and three-year-old sister, who were still sleeping, from another room.
READ MORE: Firefighters take 5yo hero who saved his grandma on toy shopping spree
The nine-year-old raced to a nearby neighbor's house to tell them to call 911, and then turned back into the trailer to get her five-year-old brother and escape from the blaze once again. The four children managed to safely get across the street.

"She was just banging on the door. When I opened the door she was standing there with her hands up saying, 'I need help my house is on fire,'" said Crawford Bailey, according to WXIA. "The house was in blazes, engulfed in fire totally."
Authorities said that the fire was caused by lights on a Christmas tree, and that the children were left home alone by their mother's boyfriend, Gregorio Garcia-Gomez. As the fire department was attempting to put out the fire and investigators searched for the children's parents, Garcia-Gomez arrived at the home.
Garcia Gomez was arrested on four counts of second-degree cruelty to a child and was taken to Hall County Jail and held on a $9,600 bond.
The children were taken to a hospital to be treated for smoke inhalation and have since been released.
You can share this story on social media: