Firefighters take 5yo hero who saved his grandma on toy shopping spree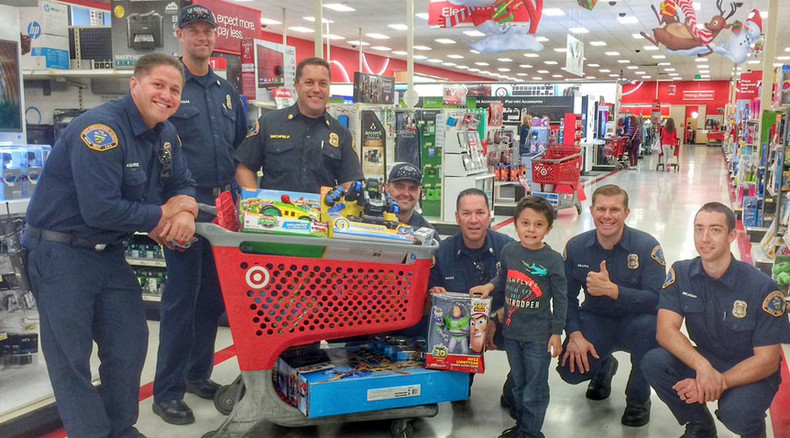 It has been a dream weekend for a five-year-old California boy, who local firefighters took on a toy-shopping spree. Rather than being a random act of kindness, it was to honor him for saving his grandmother from a fire – and to replace his toys, all of which he lost that night.
On Sunday morning, Nathaniel Stocks got to shop with the firefighters. He received a gift card from The San Bernardino County Professional Firefighters Local 935 Union and could pick any toys he liked.
According to firefighter Jeff Allen, little Nathaniel headed to buy a Buzz Lightyear toy.
"He was pretty excited," Allen said, according to NBC Washington. "He was all smiles for sure."
According to a comment by Brianna Renee, presumably Nathaniel's mother, he is "so excited about his new toys!"
"You brave men are truly our heroes!!" she wrote on Twitter.
Nathaniel was hailed as a hero in his hometown Phelan on November 7, after he helped his grandmother leave their house after it caught fire. The boy crawled beneath the smoke and up the hallway to her bedroom, and woke her up as flames were ripping through their house.
"No doubt I would have slept through it because I'm a really heavy sleeper," his grandmother, Kimberly Ratliff, said a few days after the fire, the San Bernardino Sun reported at the time. "I'm really proud of him. He did everything exactly how he learned it."
Just two days before the fire burnt down his home, Nathaniel and his fellow kindergartners were taught safety lessons at County Fire Station 10 in Phelan.
On November 9, the boy was honored by San Bernardino County Fire Chief Mark Hartwig, who handed Nathaniel a plaque for saving himself and his grandmother.
"Because of Nathaniel and because of his actions, he's alive today, his grandmother's alive today and Tinkerbell's alive today, all because he came to an educational event and listened and took action when he needed to," said Mark Hartwig, according to the San Bernardino Sun.