Adele, Queen channeled in 'snow day' showcase (VIDEO)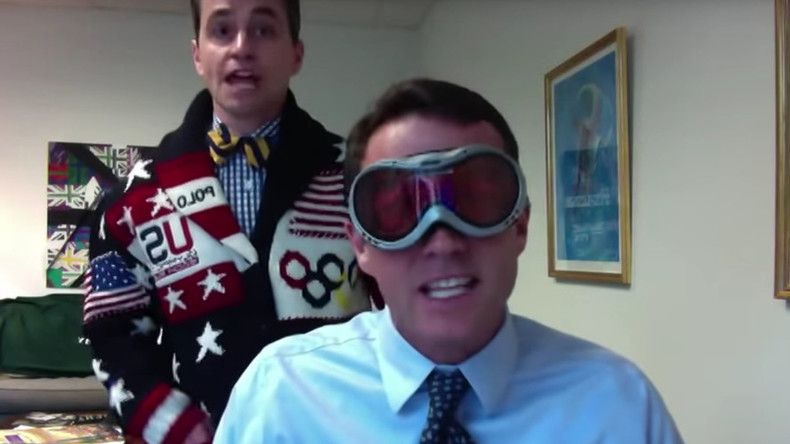 A school administrator in Illinois took his 'snow day' shutdown announcement to creative heights.
Paraphrasing Adele's mega hit 'Hello' through a combination of spoken word and what can loosely be called "singing," the recorded message sent to parents Sunday night announced: "Hello... it's me... the man you want to hear from on snowy days but never see… we will… not go to school… at Harrisburg Unit 3."
The unknown aspiring singer then switched to a 'normal' voice to finish the message: "On tomorrow, Monday, January 11, due to conditions, there will be no school at Harrisburg Unit 3. Have a wonderful evening, thank you."
When the video was posted via Reddit, users shared their own snow day stories.
Harrisburg Unit 3 isn't the first school to experience creative weather announcements.
At Roxbury High School in New Jersey, Superintendent Patrick Tierney made use of the school choir to make the announcement that school would be closed due to weather conditions.
As the choir sung "For the Longest Time" by Billy Joel, Tierney announced school would likely be canceled Thursday, but that school on Friday would now be a full day.
This video from Western Kentucky University news director Bob Skipper highlighted the best supportive tweets when he announced classes were canceled, including a marriage proposal, as well as the trolling tweets when he announced the campus was open again.
Also in Kentucky, James Detwiler at Stephens Elementary School sent parents "another entertaining school closing message" to the tune of Queen's 'Bohemian Rhapsody': "We just got a call, school is closed, school is closed, sorry parents for another day. Watch out for frostbit-ing, very, very frightening. School is canceled, school is canceled, school is cancelled because it's co-o-o-old."
Vanilla Ice provided the bassline for an announcement set to 'Ice Ice Baby' by Michael Ulku-Steiner and Lee Hark at North Carolina's Durham Academy: "All right stop, collaborate and listen, ice is back and the roads will glisten... Don't worry kids, the learning's not lost, we have Evernote, Moodle, Veracross, if there is a problem, Greg Fishel will solve it, check out a book while the ice dissolves."
The dynamic duo used the same song to rap about head lice earlier that year.
You can share this story on social media: