Saudi inmate sent home as Gitmo turns 14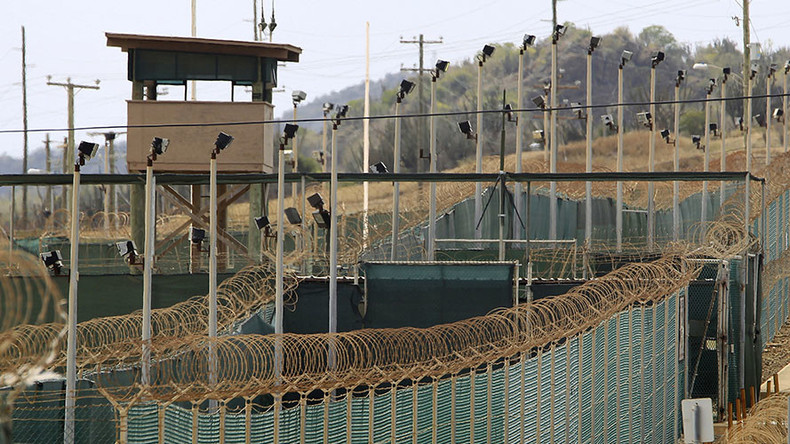 Another Guantanamo Bay prisoner has been released. The Pentagon announced that Muhammed Abd Al Rahman Awn Al-Shamrani has been sent home to Saudi Arabia, after spending 14 years inside the notorious detention camp.
The first prison camp at the US naval base in Cuba was established on January 11, 2002, under George W. Bush's presidency, to house captives taken in the "war on terror." Al-Shamrani arrived at what was then known as Camp X-Ray on January 17 of that year.
By April 2002, the captives had been moved to Camp Delta, a purpose-built facility on the base grounds. Close to 800 people have been held at the camp for years, without convictions or charges, in what human rights activists have criticized as illegal detention. Treatment of the prisoners at Guantanamo has been described as torture, involving force-feeding and sleep deprivation.
Al-Shamrani's release is part of a push to repatriate at least 17 inmates, announced earlier this month by the Pentagon. As of Monday, 103 prisoners remain at the camp.
Last week, the last Kuwaiti held at the camp was released. Fayez Mohammed Ahmed Al-Kandari, now 40, was never charged with any war crimes.
READ MORE: Kuwaiti man repeatedly tortured is freed after 14 years in Guantanamo

While many of the prisoners still held at the camp are slated for release, 59 have been classified as ineligible for release or transfer. Congress has repeatedly blocked plans by the White House to move the prisoners to facilities inside the US. Guantanamo Bay is technically Cuban territory under effective US control, under the terms of a 1903 treaty that the government in Havana has denounced as illegal.
Protesters gathered outside the White House on Monday, commemorating the camp's anniversary and demanding its closure.
President Barack Obama intends to close the camp before the end of his term, White House Chief of Staff Denis McDonough said on Fox News on Sunday. Obama has promised the closure of "Gitmo" since his 2008 electoral campaign, calling the camp a propaganda boon for terrorists and enemies of America.
You can share this story on social media: