Kuwaiti man repeatedly tortured is freed after 14 years in Guantanamo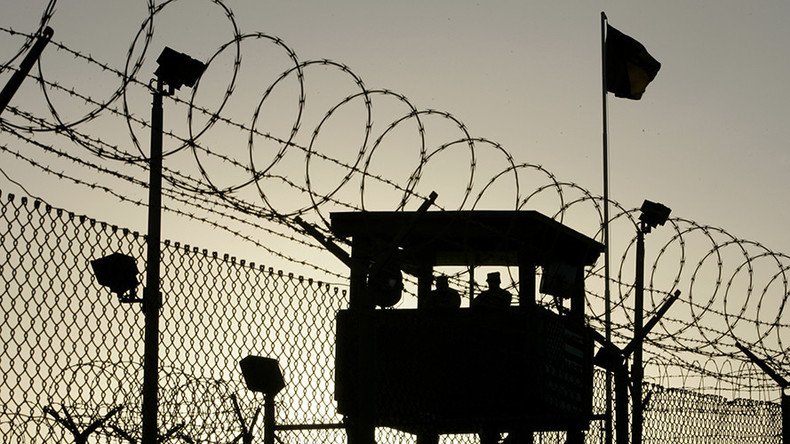 A Kuwaiti national, detained illegally for 14 years in the Guantanamo Bay military prison, where he was repeatedly tortured, was transferred and sent to his home country, said the Department of Defense.
The detainee, 40-year-old Fayez Mohammed Ahmed Al-Kandari, was never charged with any war crimes.
The Pentagon made the announcement of the transfer on Friday. Al-Kandari was captured by US forces in 2002 and accused of recruiting personnel to receive weapons training in Afghanistan, according to Reuters.
Al-Kandari maintained his innocence during his 14-year detention in Guantanamo, and claimed he was in Afghanistan doing charity work and rounded up for reward money. He was never convicted of any crime, and all charges against him were dropped last year.
As part of Al-Kandari's release, he will undergo "rehabilitation." He also will be subject to surveillance by his government for the rest of his life and will have travel restrictions.
Al-Kandari's attorney, Eric Lewis, stated, "Mr. Al Kandari is delighted to be going home and reuniting with his beloved parents and family after all these years away."
"He goes home with optimism and looks forward to resuming a peaceful life and to putting Guantánamo behind him," Lewis added, according to the Miami Herald.
Lieutenant Colonel Barry Wingard, who also represented Al-Kandari, said in a Pittsburgh Post-Gazette story in 2009 that his client was subjected to a litany of torture that caused psychological and physical damage, including sleep deprivation, physical short stress positions, sexual humiliation, extreme temperatures, loud music, and being threatened with dogs. During his captivity, his ribs were broken, and during one exchange he was beaten by chains so severely the bruises showed as a chain link.
The Miami Herald also reported Al-Kandari was "an active participant in the widespread hunger strike that swept through the prison in early 2013." His lawyer said he was "being force-fed in April 2013, because the 5-foot, 6-inch man had withered to 108 pounds and had the waist of a small child."
"There simply is no evidence other than he is a Muslim in Afghanistan at the wrong time, other than double and triple hearsay statements, something I have never seen as justification for incarceration, let alone eight years," Wingard said of the government's case against Al-Kandari.
The man's transfer comes just a day after two Yemeni nationals were transferred to Ghana, where they will live for two years under surveillance. It is the first time a West African country has taken prisoners from Guantanamo.
The Yemeni nationals, Khalid al-Dhuby and Mahmoud Omar Bin Atef, both spent more than a decade behind bars without being charged, and were both approved for release in 2006 and 2009.
Fourteen more men are expected to be released in January, as well as more parole board decisions that could clear others for transfer. Over the last year, prisoners have been released under various conditions to countries all over the Middle East, as well as South America and Africa.
After Al-Kandari's release, 104 detainees remain at the camp, according to government records.
Out of the nearly 800 men who have been held at Guantanamo, only seven have actually been convicted of crimes, and eight have died while in detention.
President Barack Obama made a campaign promise to close the military prison, and continues to promise he would do so before he leaves office January 2017. The Republican-led Congress has strongly opposed such a proposal, and in its omnibus budget forbade the president from closing the detention center or spend money on building new facilities in the US. The omnibus spending bill funds the government until October 2016.
You can share this story on social media: