NY village vote on changing seal depicting white settler 'choking Indian'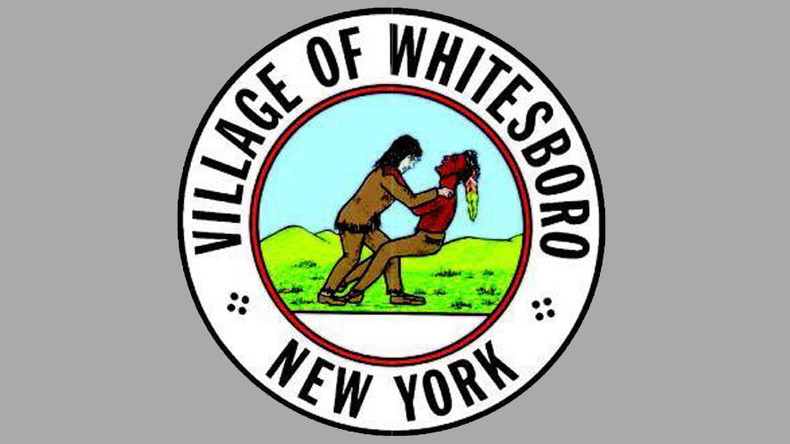 Some 4,000 residents of Whitesboro, a village in upstate New York, will decide in a vote on Monday whether to change their village seal, which depicts a white settler and a Native American wrestling.
"We want to just put an end to it once and for all," Mayor Patrick O'Connor told WKTV. "Let the residents have their say about what seal they want to represent them and their home and their history."
The village in Oneida County has just five Native American residents, while the majority of the population is white, according to a 2010 census. The name, however, is derived not from its racial composition but from its founder Hugh White, who settled in the area in 1784.
It takes a special, bigoted skill set to name your town "Whitesboro" and adopt a logo of a white man choking a Native American

— Denali Parton (@eclecticbrotha) January 9, 2016
The seal, displayed on village stationary, police cars and the village website, among other places, depicts White engaged in a friendly wrestling match with an Oneida Indian. According to legend, he beat his opponent and won respect from the tribe.
The logo dates back to at least the 1900s and in the original version White's hands were placed on the neck of the Native American. But in the 1970s the village was sued over the depiction by an Indian group, which found it offensive. The seal was changed so that it didn't imply strangling.
"But for some reason people still want to say it looks like the Native American is being choked even though the hands are on the shoulders not the neck," Whitesboro Village clerk Dana Nimey-Olney told the Huffington Post.
In the vote, villagers will have about a dozen options to choose from, including keeping the current seal. Nimey-Olney said the residents appear to be in favor of keeping the image.
An earlier mayor of Whitesboro, Joseph Malecki, suggested changing the seal in 1999, but no alternative was suggested and the village board decided to stick to the historic version.
Local Native Americans historically had peaceful relations with European settlers and wrestling was a common practice among friends, reported the Observer-Dispatch, a Mohawk Valley newspaper, citing a representative of the Oneida Nation Council Turtle Clan.
If anything, he said, the village could use a more accurate image of the Indian wrestler, who should wear a headdress with two feathers, one pointing up and one pointing down, he added.
You can share this story on social media: