Where White People Meet: All about the tolerance, if you're white and straight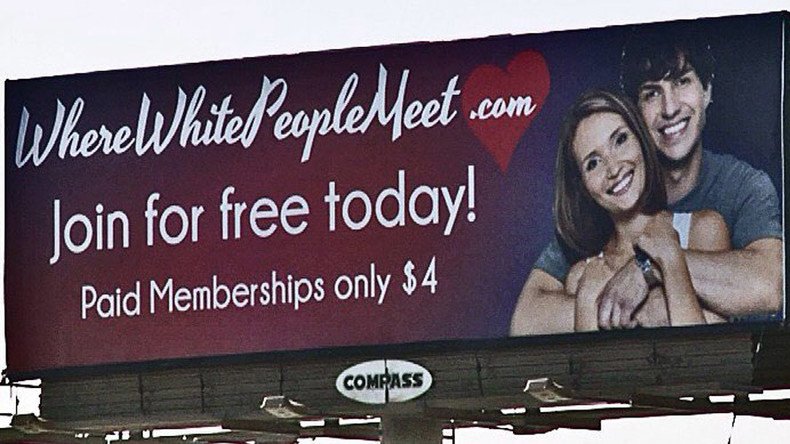 Finding love can be tough. And finding "the One" who shares your disdain for varying skin tones can be even tougher. That's where the site "WhereWhitePeopleMeet" comes to the rescue.
The dating site, which has been called racist, has been live since September, but hasn't been swamped with clients ... until recently.
According to the Salt Lake Tribune, there were only 35 active members before the site started to advertise on a billboard outside Salt Lake City. People have questioned the choice of location for the billboards, as Salt Lake City is 90 percent white and seemingly full of similar people to meet, but that's where the founders live.
"People ask all the time 'Why White People Meet'? I always say, why not? Just about every other race, religion and walk of life have dating websites, so why not Where White People Meet?" the site says.
The welcome page of the site explains: "We developed this dating website as an alternative to the other dating websites that cater to certain groups. We simply want to help people connect in a safe and fun online environment without costing them a ton of money. Enjoy!"
The founder describes his views as "those of tolerance, love, acceptance and understanding."
Those views only apply to white, straight people.
Although the site says it accepts all races, this doesn't apply to gay people. It does, however, appear to be open to polyamorous relationships. In order to sign up, users must also enter a religion, with the option of choosing non-religious.
Where White People Meet was founded by Sam Russell, who avoided mentioning his name anywhere on the site, in anticipation of the criticism the site would receive. The domain was purchased in May, and Russell's son, who is in high school, created the site.
A former car dealer, Russell insists his site is all about equal opportunity.
"The last thing in the world I am is racist," he told the Washington Post. "I dated a black woman once. I helped raise a young black man … I just believe it's hypocrisy to say 'one group can do this, but another can't.'"
You can share this story on social media: