'Most hated' Pharma CEO uses $45mn stock trading account to secure bail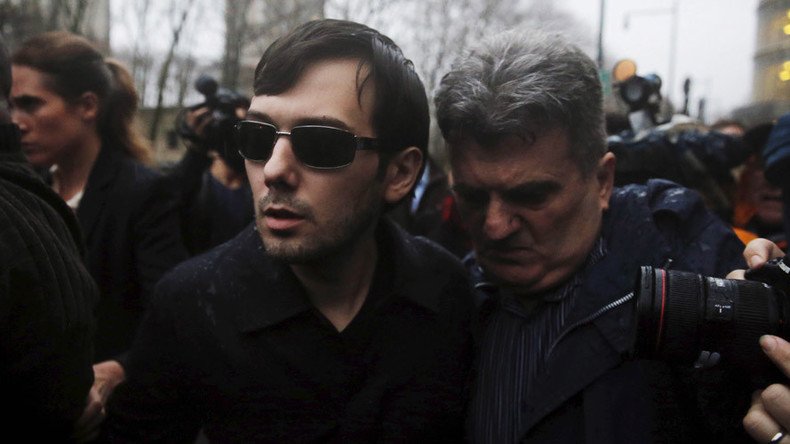 Martin Shkreli ‒ the pharmaceutical CEO infamous for jacking up drug prices 5,500 percent ‒ has shed light on the extent of his riches after he used his E-trade brokerage account containing assets currently worth $45 million to keep himself out of jail.
Shkreli used the account to secure the $5 million bond that has kept him out of jail since mid-December, when he was indicted on federal securities fraud charges.
READ MORE: 'Most hated man in America' arrested for securities fraud
A magistrate judge in Brooklyn, New York, agreed Friday to accept Shkreli's account as collateral for the bond, but placed a number of tight restrictions on the deal.
Judge, Kiyo Matsumoto, barred Shkreli, any of his relatives, employees or other associates from selling off or transferring any of the holdings in the E-Trade account, or using the account to secure any other debt.
The court also ordered E-Trade to let federal prosecutors in Brooklyn know if the value of assets in the account drops below $5 million, according to CNBC.
Shkreli, 32, was arrested last month on charges related to his actions at the hedge fund he previously ran, and the pharmaceuticals firm,Retrophin, that he founded and ran until he was ousted by the company's board of directors in 2014.
Shkreli is accused of of illegally taking stock from Retrophin, Inc. to pay off his personal debts from unrelated business dealings as a hedge fund manager for MSMB Funds.
He denies the charges.
Shkreli's net worth had been a subject of intense scrutiny even before the then-CEO of Turing Pharmaceuticals was arrested last month, which led him to quit the company the following day.
You can share this story on social media: