Can-opener: Delivery truck becomes '102nd crash' victim of infamous US bridge (VIDEO)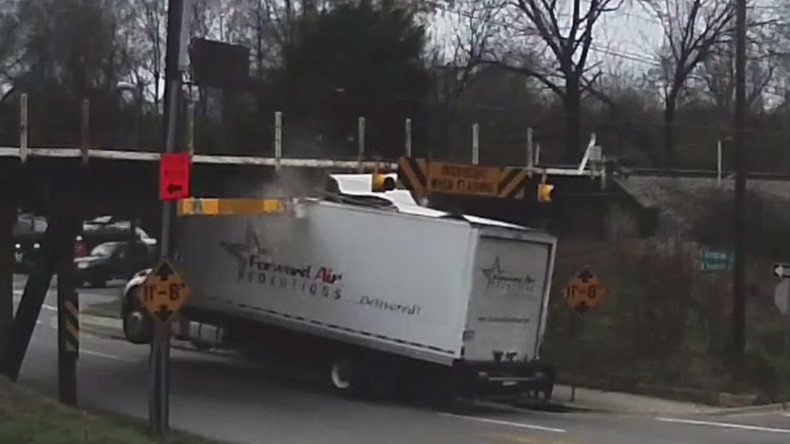 Built before the advent of minimum clearance heights, Durham Bridge has claimed its latest steel scalp from a heavy goods truck, in what appears to be at least the 102nd vehicle smash at the accident black spot.
The fresh crash took place while a news crew from NBC was around after recording an interview.
The 11-foot-8 trestle in the city of Durham, North Carolina, is about two feet lower than the average bridge and poses a huge obstacle to inexperienced or oblivious truck drivers.
Large warning signs have been posted several blocks leading up to the train track bridge but still bad drivers insist on crashing into it.
The first collision of the New Year, and 102nd in eight years, was recorded on January 7 and shows a delivery vehicle's roof being shorn off.
In total, it's estimated the tricky span has cost careless drivers more than $500,000 in vehicle repairs.
In 2008, Jurgen Henn began pointing his camera at the bridge. Since then the results of 102 tin-opener crashes and close shaves have been published on his website 11foot8.com.
"I set up a camera in one of our offices at Brightleaf Square and started recording the traffic at the bridge.
"The idea was that eventually I'd record," IT worker Henn explains on the site.
"Just a few weeks later a truck crashed into the trestle and I had my first recording. In June 2009, I set up another camera in a storefront across the street, and since then I have been recording the crashes from two angles".
Millions of viewers have since logged on to watch lorry lids peeling back like sardine cans and decapitated buses.
The train tracks above the bridge has kept Durham city officials from making the bridge any higher, report the Wall Street Journal.
Meanwhile, Henn says a 100-year-old sewer mains below prevents the road from being lowered.
You can share this story on social media: