San Francisco mayor sworn in amid protests over fatal police shooting of black resident (VIDEO)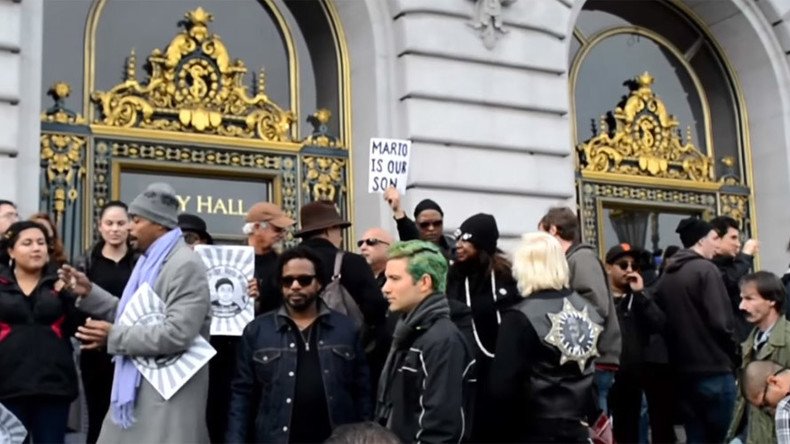 San Francisco Mayor Ed Lee was sworn in for a second term, while facing a backlash from protesters over last month's fatal shooting of SF resident Mario Woods by police. Many are calling for Police Chief Greg Suhr's resignation and a fair investigation.
About 75 protesters were at the event, according to Eileen Hirst, chief of staff of the San Francisco Sheriff's Department. Ten were detained and later released. No arrests were made.
"There was a lot of noise but certainly no violence," Hirst said.
The proceedings were temporarily interrupted when the demonstrators started chanting, "Fire Chief Suhr, Fire Chief Suhr!" At one point, Lee addressed their chants with, "Thank you! We heard you." The chants abated only after deputy sheriffs showed up in riot gear and threatened to clear the floor, the San Franscisco Examiner reported.
Dian Wolfwood, 20, was among those ejected from the building. He told AP police need to be held accountable for the shooting of Woods, a 26-year-old African American.
"We need to revamp the whole system, because they are not doing anything about these cops," another protester, Geoff Smith, told San Francisco Gate. "There obviously is some racism going on in the [police] force and it wasn't addressed by the mayor," he added.
Lee is facing fallout from the shooting of Woods by five police officers in the city's tough Bayview neighborhood. The officers said he refused commands to drop an eight-inch knife.
Members of the Justice for Mario Woods Coalition held a news conference after the inauguration ceremony, calling for a trustworthy inquiry into the fatal shooting of Woods.
"We are calling for an independent investigation… And not by San Francisco police department and not by San Francisco police commission because they cannot investigate themselves," Service Employees Union International 1021 member Felicia Jones said, according to Bay City News.
"You cannot shoot down a human being or shoot him more than 20 times like he's an animal and think it's ok, and then be suspended for only 10 days and go back to work. We are not accepting it. We are putting the city of San Francisco on notice that we want justice," Jones stressed.
READ MORE: NYPD sergeant hit with internal charges in connection to Eric Garner chokehold death
The mayor has been under fire from local African-American community leaders since the Woods shooting. On Thursday, Lee released a new initiative designed to reform his police department's use-of-force policies. "It has to do with de-escalation practices, how do we get there, new training, making sure it's transparent, making sure it's reflective of new practices," he told reporters, KGO reported.
"We already have almost 400 of our officers crisis intervention trained. Every recruit who graduates from the academy is crisis intervention trained," Suhr reportedly said.
The shooting of Woods on December 2 sparked protests last month, with the family of the black man filing a federal civil rights lawsuit against the city. San Francisco police said officers came across Woods while investigating reports that someone matching his description had stabbed someone. Police said they first tried using pepper spray and fired beanbag rounds at Woods, who they claimed was holding a knife and refused commands to drop it. The suspect was shot dead when he moved towards an officer, according to the police.
However, the video of the shooting, recorded on bystanders' cell phones and uploaded to social media, showed one of about a dozen officers move directly in front of Woods as he attempted to walk away. Then all of a sudden he was dropped in a hail of gunfire. It is unclear from the video whether Woods was armed when he was shot.
"Based on what we see in this video, it does not look like the officers who fired the fatal shots were in immediate danger of being killed, and that there were other alternatives that could have been taken," San Francisco Public Defender Jeff Adachi told the San Francisco Chronicle last month.
You can share this story on social media: