NYPD sergeant hit with internal charges in connection to Eric Garner chokehold death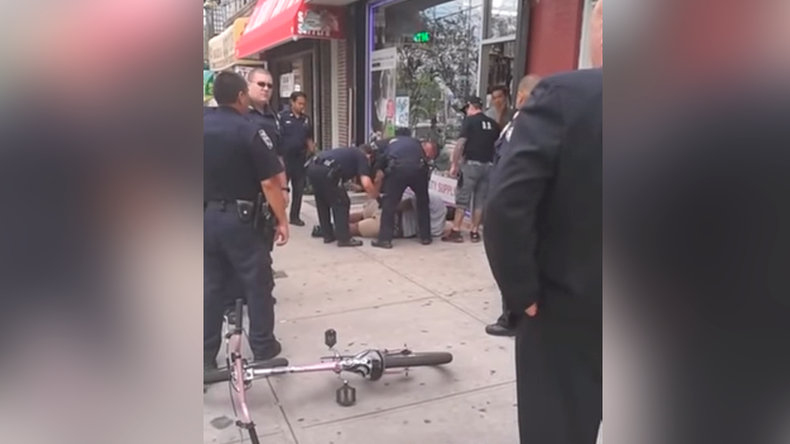 As part of the ongoing internal investigation into the death of Staten Island's Eric Garner at the hands of police, a New York Police Department sergeant has been stripped of her gun and badge.
Sergeant Kizzy Adonis of the 120th Precinct was charged with "failure to supervise" because of her role in overseeing the police action that led to Garner's death by chokehold in July 2014, officials said.
"Probationary Sergeant Kizzy Adonis of the 120th Precinct was served with disciplinary charges today in connection with the NYPD internal review of the July 17, 2014 incident on Staten Island involving Eric Garner," a Friday statement from the NYPD's Deputy Commissioner of Public Information said. It added that she's been placed on "modified assignment status" until the internal case is completed.
The NYPD provided no further details on the case against her. Police consulted the US attorney's office in Brooklyn, which in turn is conducting its own probe to determine whether Garner had his civil rights violated.
"The NYPD, in consultation with the United States Attorney's office, served the departmental charges at this time in order to preserve the disciplinary statute of limitations and all further proceedings concerning the Garner inquiry will continue to be stayed until the conclusion of the federal investigation," the department said in a statement.
Adonis had been promoted to sergeant roughly two weeks before the Garner's death and was one of the supervising officers during the incident, which was caught on video. The 43-year-old was arrested for illegally selling loose, untaxed cigarettes on a Staten Island street corner. Charges against a second NYPD sergeant involved in the incident may also be on the way, sources told the New York Daily News.
A grand jury declined to indict the officer who applied the fatal chokehold to Garner, Daniel Pantaleo, in connection with the death. He has been on modified duty since the incident but hasn't faced any departmental charges.
READ MORE: Daughter of NYPD chokehold victim Eric Garner mulls bid for Congress
Sergeants Benevolent Association President Ed Mullins said the charges against Adonis are nothing more than political grandstanding.
"It's a bulls*** political charge, and Commissioner Bratton is pandering," said Mullins. "That's exactly what that is."
Garner's death has been a rallying cause for anti-police-brutality protests that have been occurring across the country since 2014. In July, the City of New York announced an out-of-court settlement in which the Garner family would collect $5.9 million.
You can share this story on social media: