Daughter of NYPD chokehold victim Eric Garner mulls bid for Congress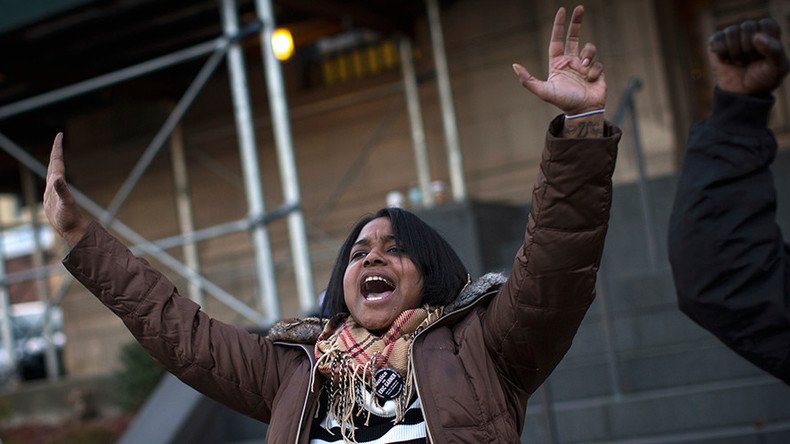 One of the daughters of Eric Garner, a black man choked to death by a police officer last year, is considering running for Congress against Dan Donovan, who she accuses of failing to deliver justice for her father for the sake of his own political career.
"He's been promoted," daughter Erica Garner told the New York Post. "He had a platform off my dad's dead body to run for Congress, and that's why he did it. It was a political move."
Garner confirmed to the Post that she "is considering" the pursuit of a political career. Next year, Donovan is running for re-election in the 11th Congressional District that covers Staten Island and parts of Brooklyn.
According to the Post, local politicians have urged Erica Garner to plan her campaign strategy and "meet with leadership."
"Her first step would really be to meet with leadership and make the case of what does she bring not only to the position but to Staten Island and Brooklyn [voters]," Staten Island Democratic Assemblyman Matthew Titone told the newspaper.
However, some have expressed skepticism over Garner's idea, saying that it would be difficult to defeat Donovan.
"Dan Donovan is very popular," Staten Island GOP Chairman John Antoniello was cited by Post as saying. "It's an interesting scenario, but I don't think Dan would have a problem."
The 25-year-old, eldest daughter of Eric Garner claims that Dan Donovan, the Staten Island district attorney at the time, failed to get an indictment against NYPD Officer Daniel Pantaleo. In July 2014, Pantaleo tried to arrest Eric Garner, a 43-year old black man, for allegedly selling loose cigarettes. Garner died after being put in a chokehold.
Pantaleo has been on modified duty since the day Garner died. Despite the evidence – a video of the arrest and an autopsy report declaring the death a homicide – a Staten Island grand jury said it had not found enough proof to indict Officer Pantaleo.
At the time, Donovan granted immunity to other officers on the scene in exchange for their grand jury testimony.
In her HuffPost blog on the eve of the failed induction anniversary, Erica Garner linked the move to Donovan's promotion.
"Pantaleo, the officer who choked my father to death, had to appear before a grand jury, but Staten Island's then District Attorney Daniel Donovan gave immunity to the other officers involved. And where is Donovan now? Congress," she wrote.
You can share this story on social media: