'Babe, I'm gonna die': Baltimore man shot in face by police and charged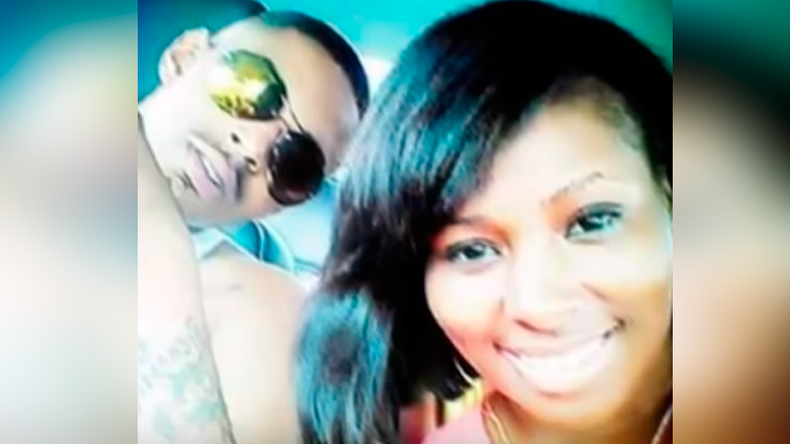 Baltimore native Keith Davis Jr. was shot in the face by police after an alleged attempted robbery in June 2015. But according to Davis' girlfriend Kelly Holsey, the evidence found at the scene supports neither the police's story nor the charges he faces.
According to The Baltimore Sun, Police Officers Catherine Filippou and Lane Eskins received a call at 10:00am on June 7. Responding to a car accident, the officers were informed by an unlicensed cab driver, or hack, that he was being robbed. According to Baltimore City Paper, the police affidavit claims that Keith Davis Jr., 23, ran into a garage with his gun drawn and proceeded to point the weapon at police. When Davis entered the garage, police opened fire.
By the time police finished shooting, they fired 44 bullets, three of which hit Davis – including once in his jaw.
However, the version Davis gave to Holsey tells a very different story.
First, Davis claims he did not rob the driver. Rather, he and a group of people were checking out a hit-and-run car accident when a police officer approached the crowd with his gun drawn. As Holsey explained to RT, "It wasn't [pointed at] Keith in specific, it was at the crowd." As a result, the crowd scattered.
Davis and a group of others ran to seek shelter at a nearby auto garage. Davis was then shot in the arm and called Holsey. Holsey described hearing a "constant pop-pop-pop" while Davis told her, "Babe, I'm gonna die."
The phone call ran for one minute and seven seconds before Kelly heard one last gunshot and the call dropped.
Photos of Davis with his face badly wounded have circled around social media. Baltimore police claim that he told officers he would put his gun down if the officers would stop firing. The officers agreed and entered the garage to find him shot in the face and a .22 caliber gun nearby.
Davis' version is different. According to Holsey, Keith told her that "the officer tried to shoot my face off." Davis was critically injured, but he survived.
Davis is now facing 17 charges, including: attempted robbery, robbery, discharge of firearm, first-degree assault, and possession of a firearm by a felon. But according to Holsey, the evidence doesn't line up.
To start, she said the gun recovered at the scene had none of Davis' fingerprints. In fact, the only evidence linking him to the gun was blood, she said. In addition, Holsey explains that the gun that was supposed fired during the altercation was tested and found that "it had never been fired."
In addition, the hack driver that claimed to have been robbed has yet to identify Davis as the assailant. On Friday, the state was granted a third postponement in Davis' case as prosecutors say they are unprepared to present evidence. The officers involved in the case have yet to give formal statements about what exactly happened on June 7. No excessive force reports have been filed, according to the police
You can share this story on social media: