Florida woman collapsed in hospital parking lot for 18 min, died later – dashcam footage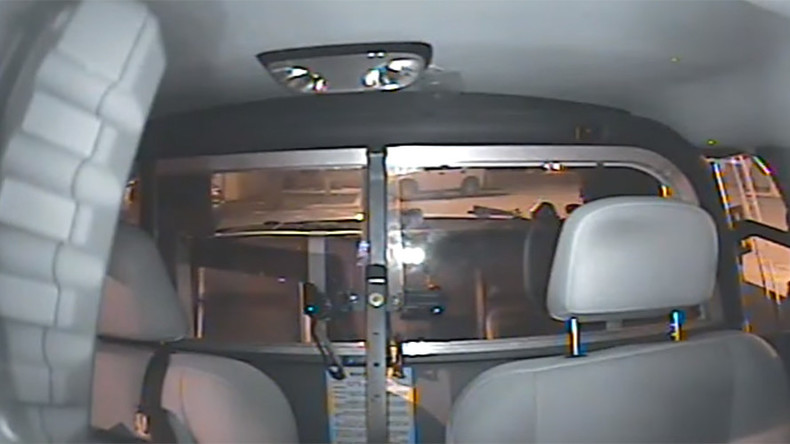 Dashcam footage released Wednesday shows that Barbara Dawson, a patient discharged from a Florida hospital, collapsed in a hospital parking lot while she was being forcibly removed. She was unconscious for 18 minutes before being readmitted, and later died.
Dawson, 57, was admitted to Calhoun Liberty Hospital on December 21 at 10:30 p.m. after complaining of stomach pains. She was later discharged but insisted that she still did not feel well. She was banned from the hospital and a Blountstown police officer was summoned to forcibly remove her.
The police dashcam footage reveals her interactions with the officer. Upon his entrance to her hospital room, she demands he leave and tells the officer, "I can't even breathe." The officer then tells her that she can either leave with him or go to jail. During the conversation, the officer explains that if she would like to receive more treatment, she is free to go to another hospital.
Dawson herself only appears on the video briefly as she is lead out to the police car parked in the hospital parking lot. She collapses when the officer pauses to reach for his keys. According to the Miami Herald, she cut her hands and knees from the hall.
The police officer proceeded to say over his radio that Dawson "was being non-complaint by not trying to get in my car and faking it." According to the Tallahassee Democrat, Blountstown Police Chief Mark Mallory felt that the officer handling Dawson acted appropriately, saying that becoming involved with Dawson's medical needs would have been reckless.
"It is important to recognize that law enforcement officers are not medically trained professionals," Mallory said in a statement, although generally officers do receive CPR training.
However, the family of Dawson disagrees. State Rep. Darry Rouson (D-St. Peter's Berg) along with lawyers Benjamin Crump and Daryl Parks are acting as counsel to the family in an impending lawsuit against Calhoun-Liberty Hospital and the Blountstown Police Department.
"Both the hospital personnel and the police department totally overreacted to a person who was so obviously in medical distress by putting her in handcuffs, by walking her out to the car, by disconnecting her from the oxygen that she medically needed," Parks said, according to WJHG.
You can share this story on social media: