Florida woman dies after trespassing arrest at local hospital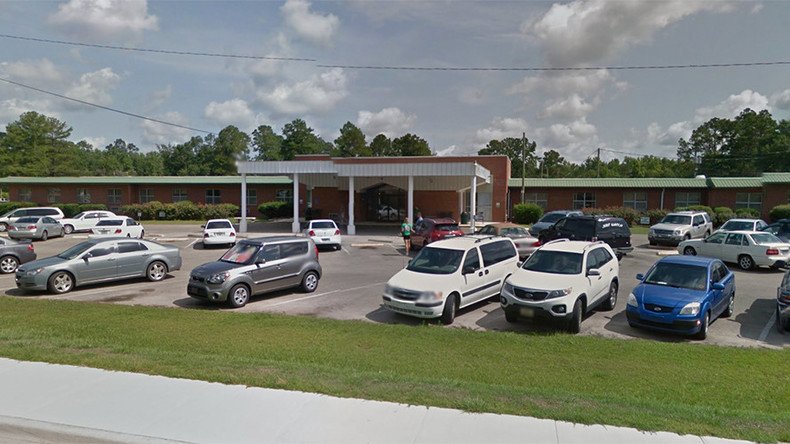 A Florida woman died after being arrested and forcibly removed from a hospital where she had gone to seek help for stomach pains. Her family claims that she was mistreated by police and hospital staff, who they say refused to provide proper medical care.
Barbara Dawson, 57, was rushed by ambulance to Calhoun Liberty Hospital in Blountstown, Florida on Sunday evening. She was admitted around 10:30 p.m., treated and cleared by hospital staff, and discharged hours later.
Dawson felt, however, that she needed to remain in the hospital for continued care, telling hospital staff that she "still was not feeling well," relatives told the Tallahassee Democrat. Nurses disagreed, and then "banned" Dawson from the hospital, her family said.
When she refused to leave the hospital after being evicted, hospital staff called police around 4:45 Monday morning.
"She was causing a disturbance in the hospital with her language and the volume of her voice," Blountstown Police Chief Mark Mallory told the Tallahassee Democrat.
The responding officer was polite to Dawson, and told her she was free to receive medical care elsewhere, Mallory said. The officer then arrested Dawson and charged her with disorderly conduct and trespassing. She was handcuffed and escorted out of the building.
Dawson complained that she was having trouble breathing, and asked hospital staff to return her oxygen tank. However, a nurse responded that she was breathing fine and did not need the tank, relatives told the Tallahassee Democrat.
She "pleaded for her oxygen" again, and told the officer not to take her to jail. When the officer went to unlock the door to his patrol car, Dawson collapsed on the ground. The policeman then uncuffed her and summoned medical assistance, Mallory said.
After hospital staff checked her pulse, oxygen and vital signs three times and told the officer she was fine, a doctor readmitted Dawson to the hospital. It took three to four staff members to place her onto a gurney, Mallory said, estimating that Dawson weighed more than 270 pounds (122kg).
Less than two hours after police were called, Dawson was dead due to a blood clot in her lung, the autopsy found.
"They did their best trying to save her," Ruth Attaway, administrator and CEO of Calhoun Liberty Hospital, told the Tallahassee Democrat. "Our staff was very aggressive with her treatment. They did everything they could."
Dawson's relatives disagreed.
"They didn't do what they could," her aunt, Angela Donar, told WCTV. "I told them, 'Y'all done killed her'."
Donar was at the hospital with her niece, and said that a doctor couldn't detect Dawson's pulse before she was brought back into the hospital, she told the Tallahassee Democrat. Despite that, hospital staff did not attempt CPR until Dawson was back inside the building.
"The most reasonable thing to do is to let her sit there and be able to settle down until she felt well. Instead, she is forcibly removed and put in cuffs," the family's attorney, Daryl Parks, told AP. "The early facts of this case should cause a great concern for everyone."
Florida Department of Law Enforcement officials have been called in to investigate, department spokesman Steve Arthur told AP.
Dawson was the second of nine children. She worked at a county facility with people with disabilities until she was injured on the job, a contributing factor to her declining health, family members told the Tallahassee Democrat. Dawson had a long history of breathing problems, visiting area hospitals 22 times since 1987. She had also been in and out of other Florida hospitals over the years.
She was a frequent visitor at Calhoun Liberty, a 25-bed hospital, Attaway said.
Dawson's family noted that the day of her death wasn't the first time the hospital had called the police on her ‒ they had done so numerous times. At one point, hospital staff ordered Dawson off the property when she brought a friend in for treatment, Donar told the Tallahassee Democrat.
"If they bring her some medicine, she wants to know what it is, what it is for. They just get mad at her," Donar said. "If she don't think it's right, she's going to tell them and they don't like that."
The local branch of the Florida NAACP held an emergency meeting on Tuesday afternoon in response to Dawson's death.
"Those that were responsible for her death... need to be held accountable in a court of law," Dale Landry, Tallahassee NAACP chapter president, told WCTV. "Because here we have an innocent person taken into custody and now they've lost their life when all they did was come and ask for medical help."
The group is glad that state law enforcement is investigating, Landry told AP, "but we strongly believe the death was due to negligence by the police department and hospital," he said.
You can share this story on social media: