Man with Down syndrome suffocated to death in police custody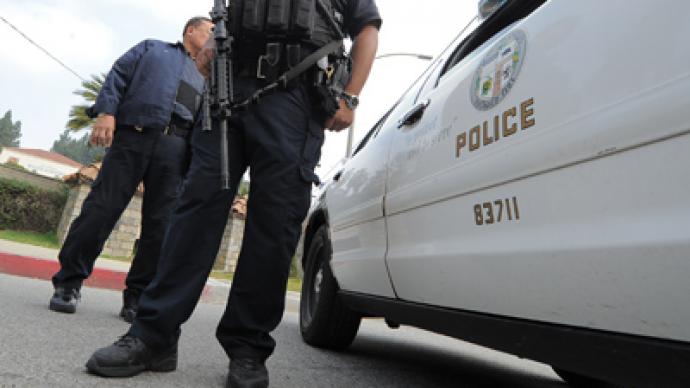 A Maryland court has ruled that police are responsible for the death of a mentally disabled man. The homicide occurred after the man refused to leave a movie theater, prompting police to pin him down on the ground until he suffocated to death.
Robert Saylor, a 26-year-old Maryland man who suffered from Down syndrome, was watching the movie "Zero Dark Thirty" on Jan. 12 – the night of his death. After refusing to leave the theater at the film's conclusion, while demanding to see it again, police were called in to physically remove the man. Three Frederick County law enforcement officers proceeded to handcuff Saylor and hold him face down to the ground.Saylor then "went into distress when he was put face down on the ground" and was asphyxiated, WJLA reports. Unable to take in enough oxygen, the 26-year-old began to suffocate at the hands of police, who then proceeded to describe the situation as a "medical emergency". Saylor died from asphyxiation shortly after arriving at the hospital, according to the Office of the Chief Medical Examiner."Positional asphyxia is typically the result of an intense struggle and often involves a person who is handcuffed and lying on their stomach after the struggle," writes the Frederick News Post, based on information by criminologist and former law enforcement officer Dr. George Kirkham. "…People often panic and can't catch their breath."Kirkham described asphyxia as a condition that closely resembles the panic that accompanies drowning."Their cardiovascular system is just going wild," he said, adding that such a condition is more likely to occur in those who suffer from a mental disability. "It's a well-known phenomenon, and these people need to be trained about it."Cpl. Jennifer Bailey, spokeswoman for the Frederick County sheriff's office, told the Frederick News Post that positional asphyxia is explained during use-of-force police training, meaning that the officers should not have pinned the disabled man on the ground.And as a result of the medical examiner's conclusion, Saylor's death has been ruled a homicide. Frederick authorities continue to investigate the incident, which involves Lt. Scott Jewell, Sgt. Rich Rochford and Deputy First Class James Harris, who are continuing to work their normal assignments at the police department.Meanwhile, the victim's mother is mourning the loss of her son and can't understand why police would treat her son so brutally."He has never had anyone put their hands on him in their life," Patti Saylor, the young man's mother, told ABC7. "He would not have been doing anything threatening to anybody."The man's mother described her son as someone who "just loved unconditionally" and would never harm another person.But mentally disabled Americans are often treated unkindly or victimized by police. In Maine, 42 percent of people shot by police since 2000 had mental health problems, according to the Portland Press Herald. And 58 percent of those who died from their injuries were mentally disabled.Police too often react brutally towards those who suffer from conditions like Down syndrome, in part because of a lack of understanding about their mental conditions. A research team at John Moores University discovered that 24 percent of mentally ill adults in developed countries have been a victim of some form of violence in the year 2011. Nearly 400,000 Americans suffer from Down syndrome and many more suffer from other types of mental illnesses.Even though American police receive special training regarding the use of force against the disabled, law enforcement officers too often fail to take their training into account, thereby unnecessarily costing the lives of many people each year.Saylor lost his life because he was unable to control his excitement about a movie he had just seen. His homicide represents the risk the mentally disabled face if they lose control over their emotions in a public place – a risk that would not exist if law enforcement applied the skills of their training.
You can share this story on social media: