Dumping on Trump: Skywriters troll GOP frontrunner from high above California's Rose Parade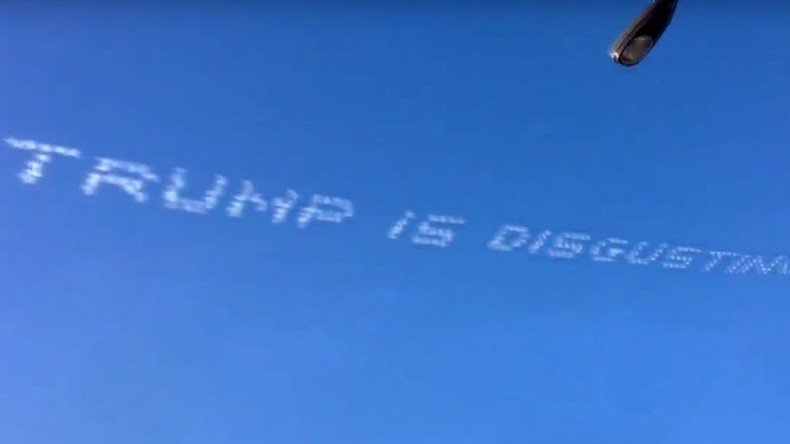 Republican presidential hopeful Donald Trump was message-bombed from on high during California's annual New Year's Day Rose Parade, as derogatory slogans such as "Trump is disgusting" appeared in the skies.
READ MORE: Filtering out Trump: Chrome ext aims to 'suffocate' Rep. presidential candidate on web
Towards the end of the parade, which takes place every year in Pasadena, California, spectators craned their necks to see skywriters drawing out messages condemning the Republican presidential frontrunner.
Messages dotted in the sky said: "America is great. Trump is disgusting" and "Iowans dump Trump."

Trump was warned that the messages would appear in the sky via Twitter ahead of time. No response has been issued yet by his campaign.
Many parade onlookers reacted positively to the messages via social media. One witness wrote: "The rose parade was great but the end was a true gem."
The sky-high criticism of Trump comes ahead of a February 1 caucus vote in Iowa.

The Rose Parade, which ended a little after 1 p.m. ET, attracts around 700,000 people annually. It always takes place ahead of the New Year's Day Rose Bowl, which this year featured the Iowa Hawkeyes and the Stanford Cardinal.
Political campaigning continued even after the parade, when a papier-mâché float resembling Democratic presidential candidate Bernie Sanders rolled down Colorado Boulevard.
Trump, a 69-year-old billionaire real estate mogul, entered the US presidential race in June, seeking the Republican nomination. He is currently leading in the polls and is known for his controversial statements, such as calling for a "total and complete shutdown" of all Muslims entering the US.
READ MORE: Deadly Trump hair attacks and no more Berns: Twitter predicts 2016 headlines
You can share this story on social media: