Fight erupts at Newark anti-violence rally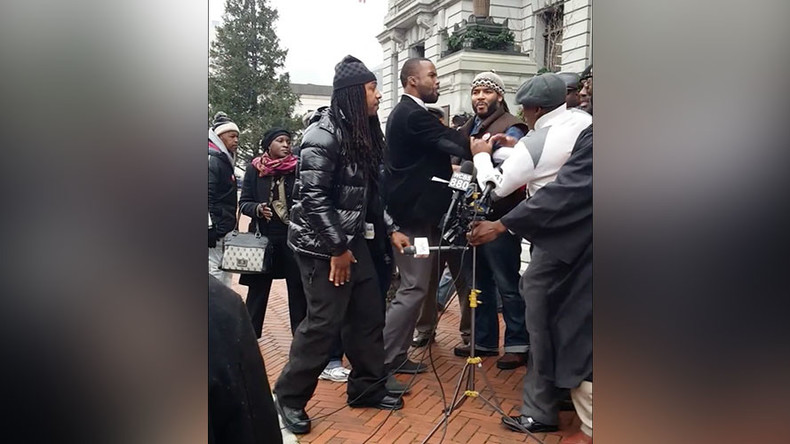 An anti-violence protest in Newark, New Jersey turned violent after rival activist groups clashed on city hall steps. The protest was related to the mayor's policies to curb violent crime in the predominantly African-American community.
There have been 104 murders in Newark this year, 11 more than in 2014, according to local media. As part of reforms proposed to address Newark's rising levels of violent crime, the city is unifying the police, fire department, and emergency management under a new department of public safety.
Wednesday's event was organized by anti-violence activists Salaam Ismial of the New Jersey Study Commission on Violence, and Abdul Muhammad. They called on Newark Mayor Ras Baraka to "unleash his quality of life plan in addressing ongoing violence facing Newark residents."
They were confronted by a small group of Baraka supporters, including activists Donna Jackson and Tyrone 'Street Counsel' Barnes, who began heckling the protesters.
The confrontation culminated in Barnes jumping on Muhammad, grabbing him around the neck and pushing him to the ground.
Reacting to the incident, Baraka said that Ismial's group should have held the rally in its home community of Elizabeth.
"While we appreciate their concern for the citizens of Newark, it would have been more appropriate for Mr. Salaam Ismial, the coordinator of this event, to bring to light the issue of violence in their town, by doing so in their town," he said.
"It was also disheartening to learn that a former Newark municipal employee, Mr. Abdul Muhammad, was the instigator in a confrontation with another well-known Newark community activist and was allegedly pivotal in the ensuing melee," Baraka added.
Minister Thomas Ellis, who heads the Newark-based 'Enough is Enough Coalition', joined Ismail and Muhammad at the event. After the incident, he said he was disappointed that the stand against violence had turned into a political feud, the Newark Star-Ledger reported.
"Today we stood on the steps of City Hall to show that black lives matter in Newark, and it turned out ugly."