'Delusional' diplomacy: 'Peace' in Syria listed by US as 2015 triumph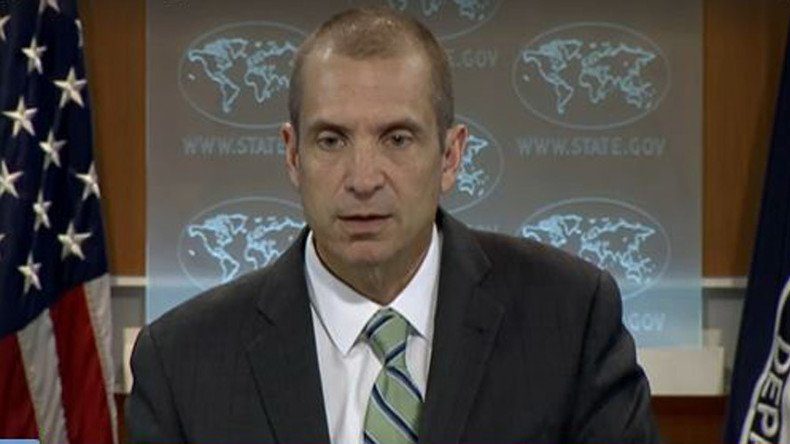 The US State Department has defended its decision to include "Bringing Peace, Security to Syria" among its list of 2015 successes, despite the Pentagon dropping more than 20,000 bombs on the war-torn country.
In a blog posted by State Department Spokesperson John Kirby, ten foreign policy 'wins' are celebrated including re-establishing diplomatic relations with Cuba and halting the ebola outbreak.
But it's his comments about Syria that's getting all the attention.
Kirby uses the hashtag #2015in5Words to sum up, and seemingly sweeten, pivotal moments.
Under the heading "Bringing Peace, Security to Syria", Kirby writes: "The United States and many members of the international community have stepped up to aid the Syrian people during their time of need - the United States has led the world in humanitarian aid contributions since the crisis began in 2011."
The five-word headline citing peace and security is being labelled "delusional" given the continuing political unrest and violence in the country.
Following the outbreak of civil war, more than 250,000 Syrians have died and 12 million displaced, according to the United Nations.
Since 2012, just 1,854 of these Syrian refugees have been rehoused in 130 towns and cities in the US, report the New York Times.
In other words, peace and security still appear a long way off in Syria.
In December, CNN, USA Today, and Fox News all reported how the United States unleashed more than 20,000 bombs on Syria and surrounding nations to quell the advance of terrorist group Islamic State.
Despite this, US State Department Deputy Spokesperson Mark Toner defended the clumsy wording at a press conference.
"No, look, the operative word is bringing, not brought, so we're bringing peace and security to Syria. I think that is a truthful claim," he said. "We're not there yet. We recognize that. But we do believe through a lot of hard diplomatic spadework that we have made progress."
Another bold claim of "Winning Fight Against Violent Extremists" has also been derided.
You can share this story on social media: