Dashcam video shows police injure infant with K-9, detain wrong man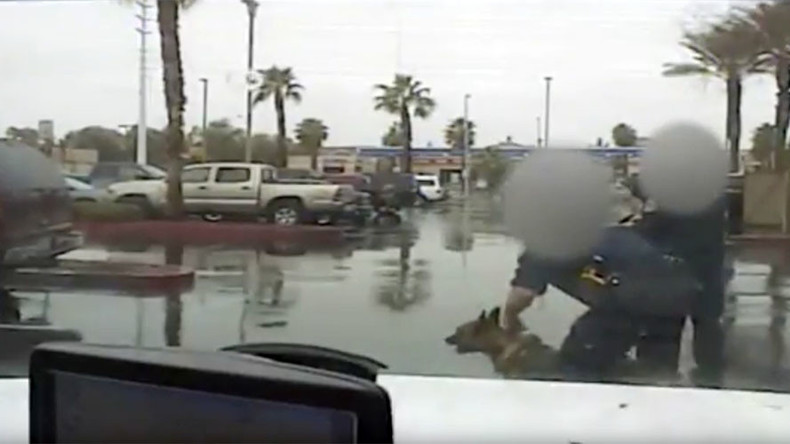 "All that happened was totally solid," a Henderson, Nevada policeman told fellow officers immediately after they let a K-9 bolt into a vehicle, injuring an infant whose father was wrongfully detained for a crime they mistakenly thought was reported.
And it was all recorded by the police dashcam, though it would take nearly a year for hours of video from that January 30 incident to be released, thanks to a records request by the Las Vegas Review-Journal.
The incident started with a call to police from a health food store dealing with a furious customer who was demanding a refund for protein powder he had purchased earlier. When he didn't get his way, he got another protein powder bag, opened it, and told the owner he'd rob the store. In the end, the customer left with the original bag that he had paid for. However, the police had been notified of the altercation by phone and later arrived thinking a robbery had been committed.
The store owner had told police the customer was a black man wearing a black and tan shirt who had left in a red SUV.
When police arrived a short time after the call, they focused on a red SUV which had just parked in the lot shared by the health store and other businesses. The driver was Arturo Arenas-Alvarez, a Hispanic man wearing white who works at the Baja Fresh in the local strip mall.
Arenas-Alvarez was bewildered when he stepped out of the car, seemingly unable to understand the orders the police were giving from their PA system instructing him to put only his arms out the window. Language wasn't too much of a barrier for the man, though, as he put his hands atop his head and remained still while police tried to figure out how to communicate with him.
One officer with limited Spanish told Arenas-Alvarez to walk toward them, and within five steps, an officer is heard saying, "That's not him, dude. That's not a black man in a black shirt."
Nevertheless, the detention continued.
"They thought that you were involved in a robbery. You don't look like the person, so it's OK now, OK?" an officer is heard explaining to Arenas-Alvarez, but the others are still oblivious to the mistake.
Officers approached the SUV with guns drawn to "clear" it, but were then ordered back by Sargent James Mitchell, who within seconds sicced a K-9 search dog onto the vehicle instead.
"Anybody inside that car, stand up now ... sending a police dog in," Mitchell warned futilely.
Seventeen-month-old Ayleen, who was secured in her car seat, couldn't stand up or say anything to prevent what happened next. A Belgian Malinois, which average 60 pounds, sprinted to the vehicle and bit her arm, leaving nine abrasion wounds. The video only captured audio of the infant's excruciating cries.
"My baby," Arenas-Alvarez is heard saying, having been distracted while telling officers that he believed he had seen their true suspect. "I've got my baby."
An officer then yells, "There's an infant in that car! There's an infant in that car!"
Fortunately, the dog, Doerak, realized the baby was no threat and stopped before police raced to grab him.
"God damn, guys, you gotta fucking tell me!" Sargent Mitchell screamed, although he had never asked the officers that were interviewing Arenas-Alvarez.
"The last forearm, the guy didn't have anything left but bone," Mitchell is heard saying.
"I don't understand why it happened. I believe they are supposed to be trained for this situation. I practically didn't see any trained officers," Arenas-Alvarez told KSNV. "My daughter wakes up many times in the middle of the night scared. She occasionally wakes up crying."
The city of Henderson settled Arenas-Alvarez's claim with a $13,000 payout, which amounted to $8,537.69 after legal fees. The money is in a special account for Ayleen and cannot be accessed without a court order.
Both Mitchell and Doerak were temporarily removed from their beats, but are now back on normal duty, though no longer working together. Mitchell is now on patrol without a K-9 unit.
"The dog may have been used too quickly and there could have been additional communication among officers prior use," Henderson Police Chief Patrick Moers suggested in a statement.
In dashcam video showing the aftermath of the incident, an officer is heard telling his colleagues what to convey in their official reports.
"All that happened was totally solid. Just a shitty set of circumstances that all rolled into — what could've been much worse. So just get that whole timeline out there," he said.
A different officer said, "You know these guys upstairs. In two weeks — they're going to have two weeks to think about it. They're going to go, 'Why didn't you fill-in-the-blank?'"