17mn people face flood threat as Missouri rivers reach record high level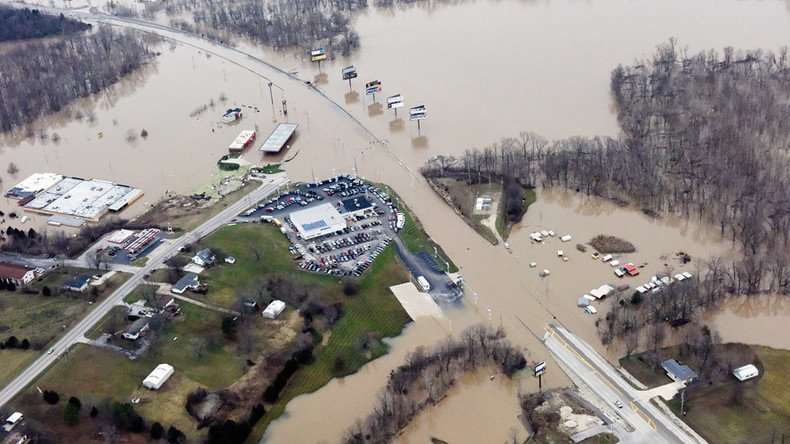 Missouri is in a state of emergency as flooding continues with record water levels expected over the coming days.
Seventeen million people in the US are currently living in areas with flood warnings, with 400 river gauges nationwide over their flood capacity. Missouri is one of the worst affected areas with three major rivers, the Missouri, the Meramec and the Mississippi all above the flood stage.
The St. Louis Office of the National Weather Service said Missouri will have "major to historic river flooding through early next week." The Mississippi River is currently over 13 meters above the flood stage and is expected to continue to rise, peaking at what is expected to be a new record level on December 31.
Sections of Interstate 44 were shut down as parts of the road became flooded. Five soldiers were killed at the weekend when the car they were in was swept into a river after driving onto a flooded roadway, according to CNN. At least 20 people in total have died in the state due to storm-related incidents.
Areas along the Mississippi River have been ordered to evacuate and the National Guard has been activated in the state to assist. In the neighboring state of Illinois a prison on the Mississippi had to be partially evacuated when staff warned of minor flooding in some cells.
The US is experiencing one of its worst months of weather on record, with some areas not seeing a break in rainfall for several weeks, with many pointing the finger at El Nino. The phenomenon occurs every two to seven years when a warming of the eastern Pacific leads to more frequent and intense storms.
A reported 69 tornadoes touched down in the US in the month of December alone, well above the average of 24 for the month. Forty-nine people were killed in the past week in the country in storm-related deaths.
You can share this story on social media: