'Come get ur bite': Texts reveal Florida cops eager to sic dogs on suspects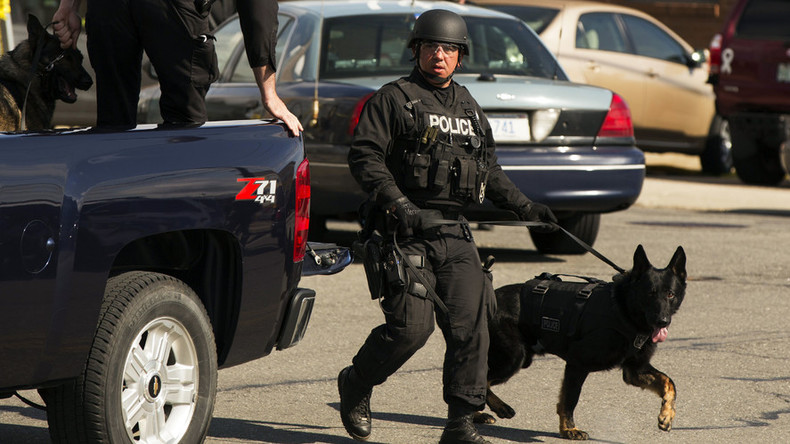 Newly uncovered digital communications, which are related to a case when canine handlers planned to sic their police dogs on a suspect before even reaching the scene, reveal possible systemic problems involving K-9 units in North Port, Florida.
An internal investigation has shed new light on the July 2012 incident during which a K-9 handler commanded his dog to attack an unarmed teen, according to the Sarasota Herald-Tribune. Eighteen-year-old Jared Lemay, who had the police called on him by his mother because of suicidal behavior, was bit in the face by the police dog and left with deep puncture wounds on his face and shoulder.
Warning: Graphic images below
Messages sent between officers on their cruisers' "mobile digital terminals" were obtained by the Herald-Tribune as part an investigation into the North Port police K-9 unit, which already had a reputation for its liberal use of attack dogs.
"COME GET UR BITE," read a message from K-9 handler Keith Bush to fellow handler Michael Dietz before he or any other officer had reached Lemay's home.
"IM GONNA TAKE UR BITE IF U DONT HURRY UP," Bush messaged Dietz again.
When officers arrived at Lemay's home, the teen was found hiding in a trash can in his garage – unarmed. He said that officers pushed over the trash can, causing him to crash to the floor.
"I remember hitting the ground on my hands to brace myself from falling, and I looked up at them, and I went to say 'OK, OK,' and the guy sicced the dog on me as soon as I started to talk," Lemay said, according to the Herald-Tribune. "I remember [the dog's] mouth coming toward me and latching onto my face. He literally [dragged] me out of the trash can."
Records show that Lemay's injuries were the topic of conversation in subsequent communications between Officer Bush and Officer Brandon McHale.
"YOUR BITE OR (Dietz's)?" McHale inquired.
"I LET (Dietz) HAVE IT," Bush said.
"NICE, HOW BAD?" McHale asked.
"BAD," Bush replied. "FACE AND BACK."
"SKIN GRAFT BAD?" McHale asked.
"NO," Bush said.
"COULDA BEEN WORSE THEN, HE SHOULD HAVE COMPLIED," McHale said, ending the exchange.
The Herald-Tribune obtained a memorandum of the counseling that Bush received in relation to the incident. It states that the officer's messages to Dietz when responding to the call concerning Lemay were unprofessional and violated departmental policy.
"E-mails and Messages sent via the (mobile digital terminal) are public record, and employees will be held accountable for the content of the messages," the memorandum states. "This memorandum of counseling shall be characterized as a corrective rather than punitive action. Further violations will result in progressive discipline."
However, no internal affairs investigation was ever conducted regarding the communications or the attack on Lemay.
The Herald-Tribune found that such incidents are not rare among North Port's K-9 handlers. The unit "commanded their police dogs to attack more people from 2010 through 2014 than did the police K-9 handlers of neighboring municipalities Sarasota, Bradenton, Palmetto, Venice and Punta Gorda during the same period combined."
Charles Mesloh, a former K-9 handler for the Venice Police Department, told the paper that a criminal investigation is warranted.
"This is people deciding in advance deciding how they're going to hurt someone," Mesloh said. "In my opinion it should be investigated by the Department of Justice. I have defended agencies accused of civil rights violations in the past, and I have never seen anything that has approached what I have seen in this report."
RT reached out to the North Port Police Department for comment, but is yet to receive a response.