VertiGo: Disney introduces wall-climbing robot (VIDEO)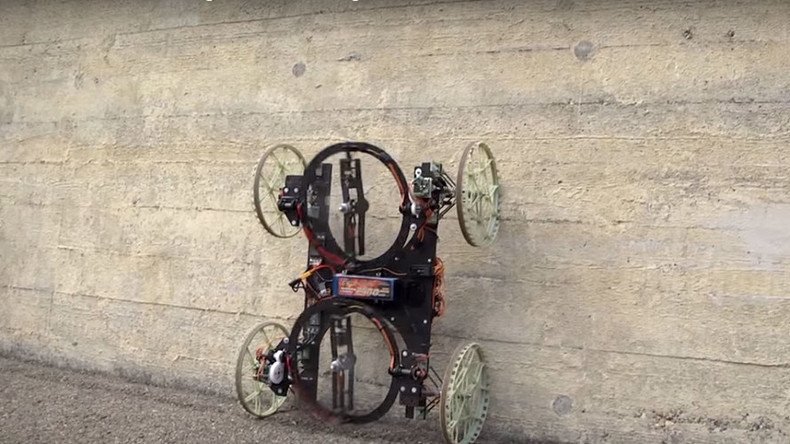 Using two tiltable propellers, a four-wheeled robot, made in part by a Disney research lab, can transition from horizontal movement along the ground to vertical climbing on a wall.
VertiGo was created through a collaboration between Disney Research Zürich and the Swiss Federal Institute of Technology Zürich, or ETH. The robot's dual, maneuverable propellers give the VertiGo its thrust, while one pair of wheels provides steering capabilities.
The ground-to-wall transition is achieved when the rear propeller pushes the robot forward while the front propeller thrusts upward, flipping VertiGo up a wall. Once vertical, the force of air created by the propellers presses VertiGo firmly against the wall, preventing it from tumbling off, while slightly tilting the propellers can give it either forwards or backwards thrust.
The propellers enable the robot, made partly with 3D-printed components, to climb walls with a variety of features unlike climbing robots that have relied on adhesion or suction, as was the case with Disney Research's less-versatile robot known as Paraswift.
"The robot is able to move on a wall quickly and with agility," wrote Disney Research in its announcement of VertiGo.
Paul Beardsley, leader of Disney Research Zürich's Vision and Sensing division, told IEEE Spectrum that VertiGo could be useful to Disney for "entertainment effects" in addition to the robot's potential autonomous capabilities.
Without indicating Disney's exact aims, Beardsley said "one can imagine that robots with lighting effects could be useful for entertainment effects or for wall games."

He added that the "ground-wall transition" feature of VertiGo is useful in that it can alleviate need for time-consuming manual attention.

"If the robot can make those transitions automatically, then you are a step in the direction of autonomous deployment, and that makes the technology more powerful."
You can share this story on social media: