Sony unveils airplane-shaped drone with vertical takeoff, speeds up to 106 mph (VIDEO)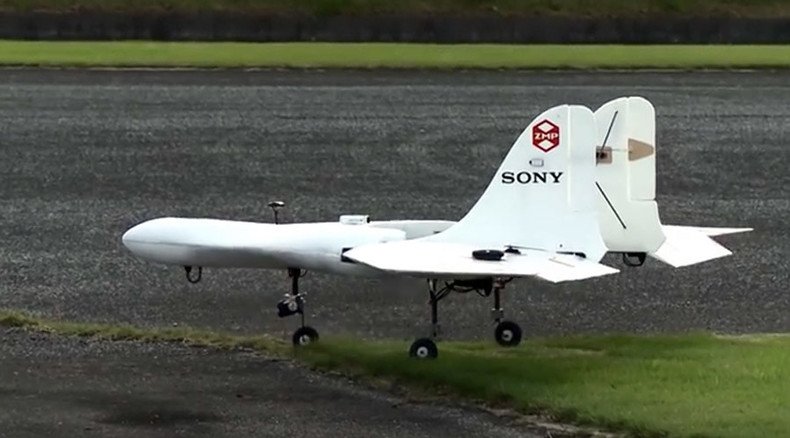 If you no longer find drones to be exciting or cutting-edge, you might like to know that Sony has raised the bar. The company has unveiled a camera drone shaped like an airplane, which can take off and land vertically and fly at speeds up to 106 mph.
Aerosense is a joint venture by Sony and Japanese robotics firm ZMP, which specializes in autopilot technology.
The unmanned aerial vehicle (UAV) is capable of flying further and faster than traditional drones, in part because it flies like a plane. The drone uses rotors arranged in quadcopter formation to fly upwards like a helicopter.
The UAV can carry up to 22 pounds (10 kilograms) and fly continuously for 22 hours at a speed of 106 miles per hour.
But if you were hoping to snag one of the futuristic drones, don't get your hopes up. They were designed to be leased to businesses for aerial surveillance and reconnaissance missions, including "measuring, surveying, observing, and inspecting."
Aerosense could offer companies services such as inspecting aged infrastructure and surveying land that is difficult to access. The drones would be piloted automatically, following input from users indicating which areas they wanted surveyed, The Wall Street Journal reported.
"By making them automated, drones will be considerably safer because many of accidents today are caused by human error," said Hisashi Taniguchi, chief executive of Aerosense and ZMP, as quoted by the Guardian.
It's likely to be good news for internet and technology companies, including Amazon and Google, which are currently studying drones for package delivery.
According to Taniguchi, ZMP is aiming for $82.6 million in revenue by 2020.
While the drone is indeed impressive, it's not the first futuristic idea to be proposed for UAVs. In fact, Boeing has recently patented a drone that would be capable of turning into a submarine. Of course, no matter how sophisticated the drone, they still face serious threats from hungry, territorial eagles.
You can share this story on social media: