'There is a strategy': Pentagon prepping new 'narrative' for war against ISIS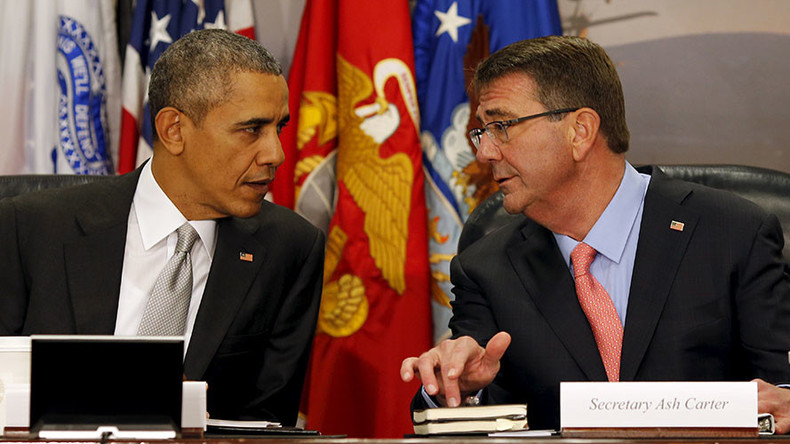 Amid criticism from Congress, the American people, and Republican presidential candidates, Pentagon officials say they have formed a working group to better communicate the US' military strategy against Islamic State.
The "narrative working group" was created several weeks ago as part of the military's strategy during a rapidly changing war, according to a report by The Hill. On Monday, Iraqi troops backed by US-led airstrikes drove Islamic State (IS, also known as ISIS/ISIL) out of the center of Ramadi and seized the main government complex, according to military officials. Ramadi, a town 80 miles west of Baghdad, fell to IS in May.
The effort also represents push back against the growing perception that President Barack Obama has no strategy to defeat IS.
"To say there's no strategy is just flat out wrong," Army Colonel Christopher Garver, public affairs officer for the Combined Joint Task Force overseeing Operation Inherent Resolve, told The Hill.
"If you want to have a debate about it, that's good, let's talk about it. But there is a strategy," he added.
Garver said the working group will explain what the military is doing and will do it "in a concise, easy to understand way." A working paper is set to be finished over the next few weeks and submitted to Army General Sean McGarland. Meanwhile, the Joint Chief of Staffs has drafted their own message.
Operation Inherent Resolve is the name given to military's operation to eliminate the Islamic State terrorist group and the threat it poses to Iraq, Syria, the region, and the wider international community. Since air strikes began on August 8, 2014, up to November 30, 2015, the military spent $5.36 billion, or an average of $11 million a day, over 480 days of operations.
The international community has recently experienced the effects of IS firsthand. In Paris, an alleged IS-orchestrated terrorist attack in November killed 130 people and wounded 368, and a mass shooting in San Bernardino, California left 14 people dead and injured 22 in December. One of the attackers in the latter assault had allegedly pledged allegiance to Islamic State.
According to a mid-November poll by CBS News, two-thirds of Americans don't believe that Obama has a coherent strategy for combating IS, with about half of respondents approving of sending ground troops to fight the terrorist group, and 63 percent saying that such a deployment was inevitable. Only 20 percent believe airstrikes, the US' current favorite tactic, will be successful.
In December, Congress passed an omnibus spending bill approving $573 billion for the Pentagon's defense operations, with a $58.7 billion budget line for the military campaign against IS.
Previous efforts to "eliminate the ISIL terrorist group" had been focused on training Iraqi soldiers in order to avoid having US troops on the ground. The stress then shifted to training moderate Syrian rebels, though that program never attracted enough recruits to be viable. A third method was to drop leaflets discouraging tanker truck drivers from transporting oil for IS. Most recently, the administration decided destroying the tankers via airstrikes might be more effective.
The military's renewed communication effort is said to dovetail with recent efforts by the Obama administration to communicate its IS strategy to the American public. Last week, President Obama told NPR his administration hadn't done enough to publicize its progress.
"There is a legitimate criticism of what I've been doing and our administration has been doing in the sense that we haven't, you know, on a regular basis I think described all the work that we've been doing for more than a year now to defeat ISIL," he said. "And so part of our goal here is to make that people are informed about all the actions that we're taking."
House of Representatives Speaker Paul Ryan (R-Wisconsin) rejected the idea that poor communications was the problem.
"This isn't the first time the president has stressed that the American people just don't get it," Ryan said in a statement to The Hill. What is needed is a "comprehensive plan to destroy the enemy and protect our homeland," he said.
Other administration activities have included the White House's announcement of a new IS "czar," Robert Malley, who held a Twitter chat with the general public and journalists. He also emails journalists daily summaries of "key developments…in our unyielding campaign to degrade and destroy ISIL." Separately, there was a briefing on IS finances and efforts to target the group's oil assets, reported the Hill
What has been consistent about the military's strategy has been the president's insistence that Syrian President Bashar al-Assad "must go" before the real fighting against IS can begin, and of his "no boots on the ground" pledge, a phrase repeated by officials, although President Obama said recently that this simply meant no battalion-level deployments.
Obama told CBS in early December that when he promised "no boots on the ground" in the fight against IS, Americans understood him to mean no "battalions."
"When I said 'no boots on the ground,' I think the American people understood generally we are not going to do an Iraq-style invasion of Iraq or Syria with battalions that are moving across the desert," Obama said in a clip CBS aired December 4.
There are currently about 3,400 American troops in Iraq. In November, the White House announced that 50 commandos will be sent to northern Syria to advise anti-IS forces there. The Pentagon would not comment on whether those special operations troops had already arrived.