Trump ties Pope for 2nd place as most-admired man in America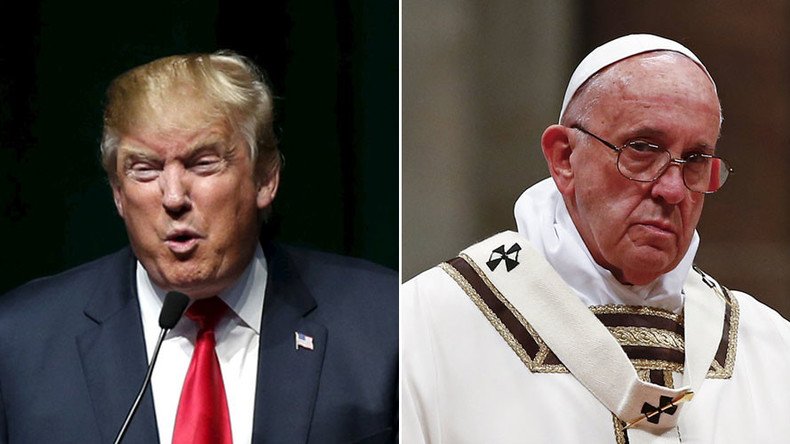 Donald Trump, the Republican frontrunner for the presidential nomination, and Pope Francis tied for second place in a yearly survey determining the person most admired by Americans. President Barack Obama came in first.
Americans were asked who they most admired in a Gallup annual survey released Monday. Trump, who has called for a ban on Muslims seeking entry to the US on the campaign trail, received as much admiration as the Pope, who has called for unprecedented measures to combat climate change and been striving to revive a wounded Catholic brand after widespread allegations of child abuse by priests. Pope Francis – who maintains traditional Catholic views on abortion, contraception, and same-sex marriage – made his first visit to the US as pope in September, when he called for America to use its might to heal the world's "open wounds."
After Obama, who took the top admired spot with 17 percent, came Trump and Pope Francis with 5 percent each. Following the top three, survey respondents chose, in order: Democratic presidential candidate Bernie Sanders, Microsoft founder Bill Gates, Republican presidential candidate Ben Carson, The Dalai Lama, former President George W. Bush, former President Bill Clinton, and evangelical minister Billy Graham.
Democratic presidential candidate Hillary Clinton finished first among most-admired women with 13 percent support. She was followed by, in order: Pakistani activist Malala Yousafzai, entertainer Oprah Winfrey, US First Lady Michelle Obama, Republican presidential candidate Carly Fiorina, Queen Elizabeth II, German Chancellor Angela Merkel, US Senator Elizabeth Warren, Burmese activist and former political prisoner Aung San Suu Kyi, former US Secretary of State Condoleezza Rice, former Alaska governor Sarah Palin, and entertainer Ellen DeGeneres.
The win for Hillary Clinton marks the 20th time – and 14th year in a row – she has been named at the top of Gallup's most-admired list. Her 14th victory bests former first lady Eleanor Roosevelt's 13 first-place finishes.
Former President Dwight Eisenhower holds the record for men, with 12 first-place finishes. Barack Obama has been the most-admired man each of the last eight years.
Reverend Billy Graham, 97, has finished in the top ten 59 times, dating back to 1955, and Queen Elizabeth, 89, has finished in the top ten 47 times since 1948, although neither has ever won the top honor.
You can share this story on social media: