'Gift of sanctuary': US churches to house immigrants facing deportation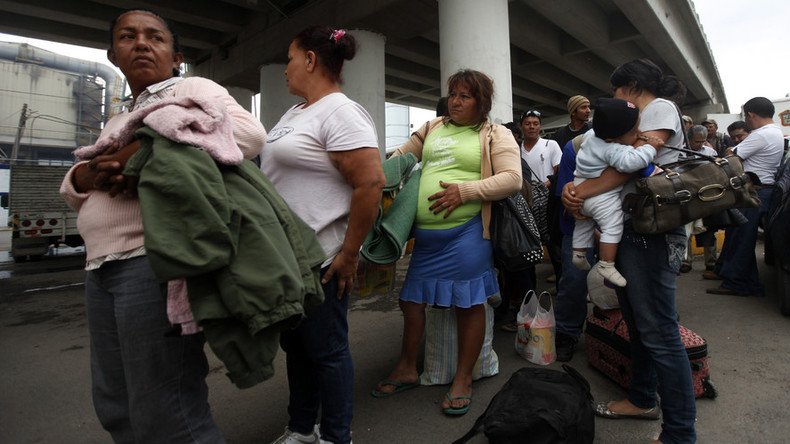 A US religious campaign supporting Central American refugees, the Sanctuary Movement, said it would offer its congregations' churches to families facing deportation from the United States, ahead of a planned government crackdown on illegal immigrants.
Leaders of the multi-denominational church-based movement said the immigrants who suffer in an upcoming series of raids, could find refuge in the group's places of worship. Nationwide operations by US Immigration and Customs Enforcement will begin as soon as January, forcing whole families from the country, the Washington Post reported.
"We open our doors to today's Josephs and Marys... The gift we have to offer on Christmas Day is the gift of sanctuary," pastor of Southside Presbyterian Church in Tucson, Arizona, the Rev. Alison Harrington said, as quoted by Reuters.
READ MORE: Jesus was a refugee child: O'Malley reminds voters of Christmas spirit
Comparing the undocumented families to the biblical Mary and Joseph seeking refuge before the birth of Jesus, Harrington said, "each and every family is a holy family." Immigrants are offered refuge at about 50 congregations in a dozen US cities, according to Harrington.
Congregations supporting the sanctuary network include about 300 parishes in more than 20 states, according to a coordinator for the affiliated Church World Service, the Rev. Noel Anderson.
Nationwide raids by the Homeland Security Department, aimed at deporting adults and children, who have already been ordered removed from the US by an immigration judge, were reported earlier this week. The campaign will affect many immigrants - primarily from El Salvador, Guatemala and Nicaragua - who crossed the US border through Mexico while fleeing violence in Central America.
READ MORE: More Texas immigrants sue health services after US-born kids denied birth certificates
Anonymous sources in the government told Reuters the crackdown is focused on individuals who pose a threat to national security, "whether alone or with family members."
You can share this story on social media: