Hands-free cosmetics: Amazing makeup artist beats disability to follow dream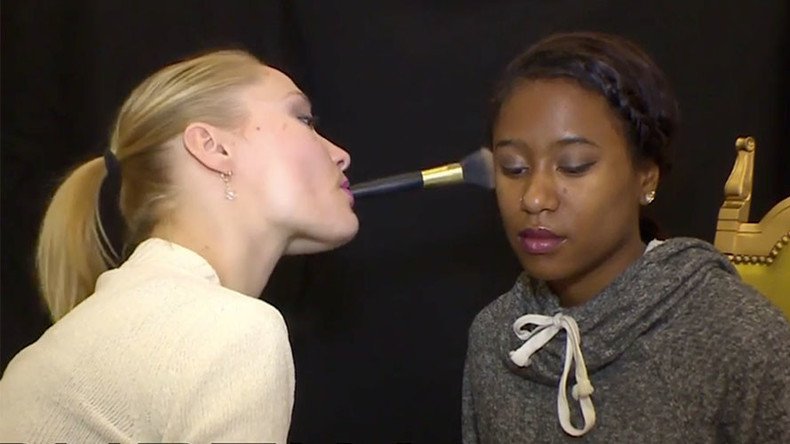 When Jessica Ruiz was rejected from beauty school, it was because the schools believed her dream of becoming a makeup artist was impossible. She disagreed and put her money where her mouth is. Literally.
The 26-year-old Philadelphia native has limited use of her arms and hands, but has created her own techniques to work around it. When she does makeup, she bites down on a brush, leans in close to her client, and applies everything from eyeliner to lip gloss by moving her head. Her lines are precise, colors are even, and technique is masterful.
Born with arthrogryposis, Ruiz is unable to lift her arms and the bones in her hands are fused. The disease is also in her legs, impacting the way she walks.
However, Ruiz does not let her disability be the most remarkable thing about her. "She was amazing from day one," her grandmother told the Philadelphia Daily News.
But Ruiz's interest in makeup was not a lifelong one. "I was a tomboy," she told RT's sister video agency, Ruptly."I was mud pies and Tonka trucks; a typical little boy!" Her discovery of makeup came during a more difficult time in her life.
Between the hormones and angst, middle school is a difficult time for many people. However, Ruiz's was especially so.
"I was being picked on by a group of girls," she explained to Ruptly. "So I needed a way to literally bring positivity to myself."
Ruiz sought out ways to bring positivity to herself and found inspiration in her aunt. She explained to the Philadelphia Daily Mail that she "watched my aunt do makeup constantly, and I loved the way that it went from plain Jane to va va voom. And I was like, 'That's what I want. I want to be va va voom.' So I started wearing eyeliner."
She started small with eyeliner and mascara that she applied by holding the makeup in her hand and moving her head. From there, she grew and developed her skills. By 16, she was showing up to school with a full face of makeup.
Her talent did not go unnoticed. Classmates began to hire her for graduation photos and Ruiz began to believe that her passion could become her career. She finished high school and applied to beauty schools. However, she was rejected because the schools failed to understand her condition.
After a period of depression, Ruiz was able to pick herself back up thanks to the help of Philadelphia's Jaleel King, a disabled photographer. Since then, she has continued to work in makeup. While people are initially "standoffish," Ruiz is willing to explain her story to clients until they give her a chance.
Jessica's next goal is to become a small business owner. She seeks to open her own business called Glam Bar in Philadelphia.
You can share this story on social media: