'Large & extremely dangerous:' 14 dead after 21 tornadoes sweep through South, Midwest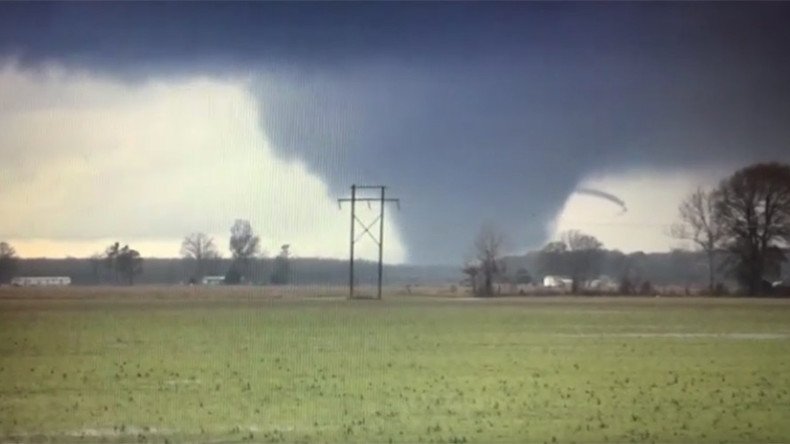 At least 14 people, including a child, were killed after at least 21 tornadoes swept through the South and Midwest of the United States. Forty others were injured by the powerful twisters, with two people still missing.
The death toll was previously at 11, but three more deaths in Tennessee were confirmed later on Thursday, according to WREG.
There were at least 21 reports of tornadoes and confirmed twisters in Mississippi, Tennessee and Indiana on Wednesday, according to the National Weather Service (NWS). Those reports included a "large and extremely dangerous" tornado near Oxford, Mississippi.
Most of the fatalities occurred in Mississippi, which was hit by at least 15 tornadoes. One particular twister did most of the damage, starting in Mississippi and ending in western Tennessee. According to the National Weather Service, it may have been on the ground for 150 miles (241km).
A seven-year-old boy and another person were found dead in Holly Springs, Mississippi, Mayor Kelvin Buck told ABC News. At least 15 others were injured in the town. Two people were found dead and two others missing in Benton County.
At least 40 people were injured across the state, and at least six counties reported damage from the twisters.
A reported tornado in Bellevue, Mississippi damaged 10-15 houses, at least seven of which were destroyed, according to Caohoma County Emergency Management.
Tennessee experienced two fatalities in Perry County, and there were several injuries and reports of damage in Wayne County.
An 18-year-old woman in Atkins, Arkansas was killed when a large tree uprooted and fell on to her house. An 18-month-old toddler was rescued from the home and transported to a nearby hospital.
Several other states, including Alabama, Illinois, Georgia, Louisiana, North and South Carolina received heavy rains from the storm system. Flood advisories have been issued for large sections of Georgia and the Carolinas.
Some 68 million people were in the path of the storm system on Wednesday night. The storms prompted the national Storm Prediction Center to issue a "particularly dangerous situation" alert for the first time since June 2014, when two massive twisters devastated a rural Nebraska town, killing two people.
You can share this story on social media: