Big news for big cats: US adds African lions to endangered species list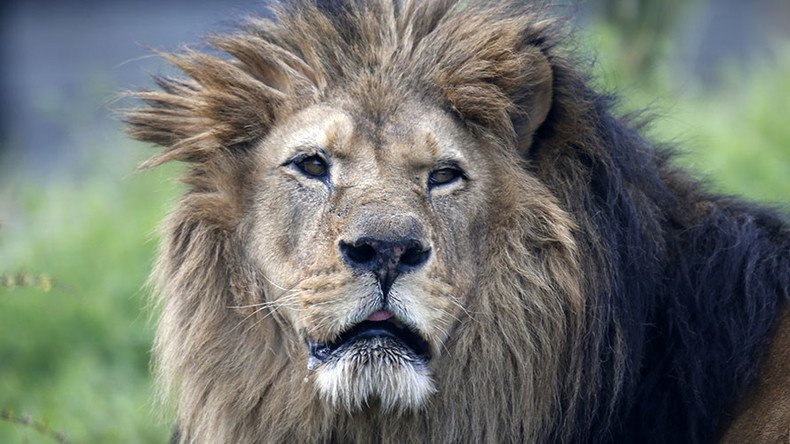 The US Fish and Wildlife Service has added African lions to the endangered species list. Two subspecies of African lions are being provided protection under the Endangered Species Act in order to discourage hunters from bringing lion trophies into the US
Following the outrage surrounding the death of Cecil, a famous lion in Zimbabwe, the US Fish and Wildlife Service (USFWS) announced stricter criteria for the import of lions and lion parts.
One species, the P.I. leo, has a population of 900 across 14 different African nations. This species is found in both Africa and India. However, the Indian population of the P.I. leo has been protected under the Endangered Species Act since 1970.
The other species, P.I. melanochaita, is believed to number around 17,000-19,000 animals. While the USFWS determined that this subspecies is not in danger of going extinct, it still added the big cat to the list.
"There are populations [of lions] that are declining due to ongoing threats," the agency explained. "As a result, the Service finds the subspecies meets the definition of a threatened species under the ESA."
Hunting organizations plan to push back against the USWS. "We will be looking to see how the USFWS substantiates its final rule, as we currently believe the record of information fails to justify this listing," Joseph Hosmer, president of Safari Club International, told the New York Times.
The Born Free Foundation filed a petition in 2011 to list African lions as endangered. Adam M. Roberts, CEO of Born Free USA, is celebrating the decision, saying "It has been a very long four years waiting for this decision, with each year seeing more lions slaughtered by hunters for trophies."
"This is a victory and we applaud USFWS for agreeing that these animals deserve significant international protection under the ESA."
The plight of lions became news back in July, when it was announced that Cecil the lion had been killed by a hunter. Cecil, recognized by his size and shaggy black mane, was known for being unafraid of humans. He was popular with both scientists and tourists visiting the Hwange wildlife park. According to National Geographic, he would allow vehicles to get as close as 30 feet away from him, "which made photography and research very easy."
Cecil became the park's biggest draw and his death at the hands of an American dentist impacted the community around him. Bryan Orford, a wildlife guide who worked in Hwange, calculated that, "with tourists from just one nearby lodge collectively paying U.S. $9,800 per day, Zimbabwe would have brought in more in just five days by having Cecil's photograph taken rather than being shot by someone paying a one-off fee of U.S. $45,000 with no hope of future revenue."
You can share this story on social media: