'White power' California cops who exchanged racist texts about 'black savages' to keep jobs - court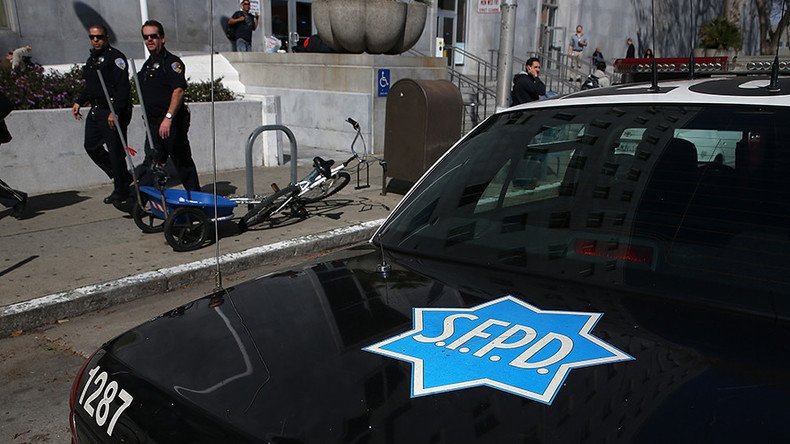 San Francisco cops nabbed for exchanging racist text messages about 'white power', the Ku Klux Klan and 'niggers', have been exonerated from blame due to the statute of limitations.
Superior Court Judge Ernest Goldsmith ruled on Monday that police officers could not be disciplined because the police department had waited for too long before acting against them, so a statute of limitations lapse has come into force.
"It is not in the public interest to let police misconduct charges languish," Goldsmith told the San Francisco Chronicle. "The public has a right to have accusations against police officers be promptly adjudicated."
"For this judge to say he's thinking of the interest of the public — is the public expected to go on with their business and pretend nothing ever happened?" SFGate cited Sgt. Yulanda Williams, president of Officers for Justice organization, representing African American and other minorities' police officers. "We need to stop sweeping things under the carpet and deal with it."
A collection of racist and homophobic text messages police officers exchanged with each other was exposed as part of an internal investigation against SFPD Sgt. Ian Furminger, who was found guilty of accepting cash from drug dealers.
Apart from Furminger, four other police officers were involved in the scandal, namely Michael Robison, Noel Schwab, Rain Daugherty and Michael Celis. All of them had served a minimum of 10 years at the SFPD at the time the internal investigation began.
READ MORE: 'Racist, homophobic': 4 San Francisco cops face probe over shocking text messages
The San Francisco attorney argued that officers could not be disciplined quickly due to concerns that the corruption case against Furminger could have been sabotaged.
The San Francisco Chronicle also reported that a decade ago, back in 2004, Furminger and another officer involved in text messages scandal were investigated for making homophobic remarks towards a suspect while slamming a man's head into a urine-covered wall. Neither was punished for that either because of the same limitation rule loophole.
San Francisco Police Department Chief Greg Suhr intended to fire eight and discipline six law enforcement officers back in April, but one of the accused officers, Rain Daugherty, filed a claim against the city to the state's Superior Court. City officials announced plans to appeal the decision.
Three officers recommended for dismissal, Michael Robison, Noel Schwab and Michael Celis, had resigned, although Celis was reinstated in the department after learning about the statute-of-limitations issue.
"We're confident in our position that we acted in a timely fashion and that the criminal case appropriately took precedent," Suhr said according to the SFGate. "Anybody capable of the reprehensive [sic] texts that these guys sent should not be police officers, and we will work for that to be the case."
You can share this story on social media: