Bergdahl enters no plea in first court appearance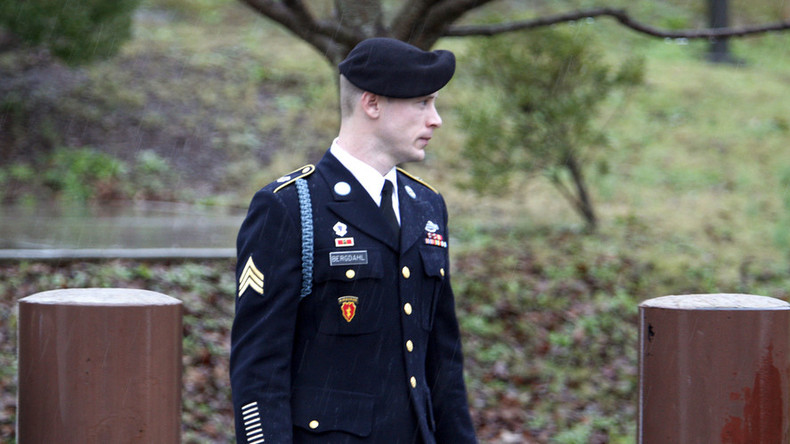 Upon arraignment before a military court, US Army Sgt. Bowe Bergdahl, who allegedly fled his unit in Afghanistan before being held captive by the Taliban, did not enter a plea in the face of charges including desertion and misbehavior before the enemy.
During his brief arraignment hearing at Fort Bragg in North Carolina on Tuesday, Bergdahl deferred offering a plea in what was his first court appearance pertaining to charges that could carry a life sentence in prison. Bergdahl did not decide whether he would prefer to face a court-martial with a jury or one with only a judge, Associated Press reported.
Saying little beyond "yes" or "no" answers to military judge Col. Christopher T. Frederick's questions, Berdahl officially requested to be defended by Eugene Fidell, a civilian attorney, and military lawyer Capt. Frank Rosenblatt, according to the ABC News. Wearing a formal Army dress uniform, Bergdahl quietly conferred with Rosenblatt before and after the hearing.
During a preliminary hearing in September, a presiding officer in the case recommended that Bergdahl be tried before a special court-martial rather than a general court-martial; the latter usually ends in more severe sentences. Major General Kenneth Dahl, the Army's general officer that led the investigation into Bergdahl's actions in 2009, also has said he does not believe Bergdahl should face jail time if convicted. Yet General Robert Abrams, head of the US Army Forces Command, eventually referred Bergdahl's case to a general court-marital.
"The convening authority did not follow the advice of the hearing officer who heard the witnesses," Fidell said Tuesday, adding he "had hoped the case would not go in this direction."
Col. Frederick set the next pretrial hearing in Bergdahl's case for January 12.
The rarely-used misbehavior before the enemy charge carries the possibility of a life sentence in prison, while a desertion conviction comes with a maximum five years in prison. The former charge allows military authorities to allege that Bergdahl not only deserted his unit, but that he put them in harm's way amid the search for his whereabouts.
The charge of misbehavior is part of Article 99 of the military justice code, which includes nine different offenses such as cowardice or triggering false alarm. Fidell, Bergdahl's attorney, has said his client is being charged twice for the same action.
"It's unfortunate that someone got creative in drafting the charge sheet and figured out two ways to charge the same thing," Fidell said in March.
Bergdahl went missing from the US army base in Afghanistan's Paktika province in June 2009. He was captured and reportedly held in Pakistan until he was ransomed and exchanged in May 2014 for five men associated with the Taliban who were detained at the US military detention center at Guantanamo Bay.
Members of his battalion have claimed Berghdal had talked openly about leaving the Army prior to his disappearance, and were convinced he had willingly deserted and subsequently put his fellow US soldiers in harm's way during the search for his whereabouts. However, the Pentagon has said that it has no proof that anyone died amid search efforts for Bergdahl.
In recorded phone conversations with filmmaker Mark Boal, which have been broadcast by the podcast Serial, Bergdahl has defended himself, saying he walked away from his base because of actions by his Army leadership that he believed were putting his unit in danger.
Since his repatriation in June 2014, Bergdahl has been assigned to administrative duties at Fort Sam Houston in Texas.
The prisoner exchange deal for Bergdahl, negotiated by the White House, has been criticized roundly by President Barack Obama's political opponents. In June, Obama announced a change in policy that would allow families of US hostages to pay ransom to government-labeled terrorists without fear of prosecution, and allow US government officials to talk with terrorists on families' behalf.