US to allow families of hostages to pay ransom, but govt will not do it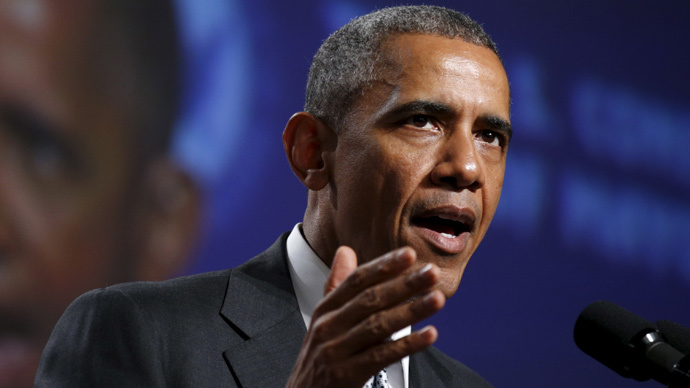 President Obama announced a change in policy that would allow families of US hostages to pay ransom to terrorists without fear of prosecution, and US government officials to talk with terrorists on families' behalf.
The president said that US will share intelligence with families of hostages, who, he noted, often felt frustration with government actions.
"These families are to be treated like what they are, our trusted partners and active partners in the recovery of their loved ones," Obama said. "We are all on the same team and nobody cares more about bringing home these Americans than their own families. And we have to treat them as partners."
.@POTUS says the US has let some of the hostages' families down http://t.co/pEeVlLQRw0

— Anita Kumar (@anitakumar01) June 24, 2015
It is still illegal for the US government to pay ransoms directly, or make concessions to terrorists. There will also be no change to the existing laws making it a crime to provide money or other material support to terrorists.
"I am reaffirming' the US will not make concessions, such as paying ransoms, to terrorist groups holding hostages," Obama said.
The Justice Department will not prosecute anyone for paying ransom to a terror group, however.
The president also announced the formation of a "fusion cell," including a coordinator serving as a liaison between the government and the families, to ensuring they receive information that is clear, timely and accurate.
Since August 2014, Islamic State has beheaded US journalists James Foley and Steven Sotloff, as well as aid worker Peter Kassig, who had converted to Islam while in captivity. Another IS captive, US aid worker Kayla Mueller, was reportedly killed in February, in a coalition airstrike in Syria.
The White House admitted in April that a US drone strike in February killed two hostages in Pakistan, one Italian and one American.
READ MORE: US drone strikes kill US, Italian hostages in Pakistan
While refusing to bargain for the lives of US civilians, the Obama administration negotiated the release of five Taliban prisoners in exchange for Army Sergeant Bowe Bergdahl, now facing charges of desertion.
Elaine Weinstein, whose husband Warren was killed by the drone strike, criticized the apparent double standard in a statement Tuesday. "The people who take American citizens working abroad as hostages do not discriminate based on their job or employer, and neither should our government," Weinstein said.
According to the White House, more than 80 Americans have been taken hostage by terrorists or pirates since the September 11 terrorist attacks. More than 30 Americans are currently being held hostage outside the US, Obama's homeland security and counterterrorism adviser Lisa Monaco said.
You can share this story on social media: