'Enough power for Mars lander': NASA tests first 3D-printed space engine (VIDEO)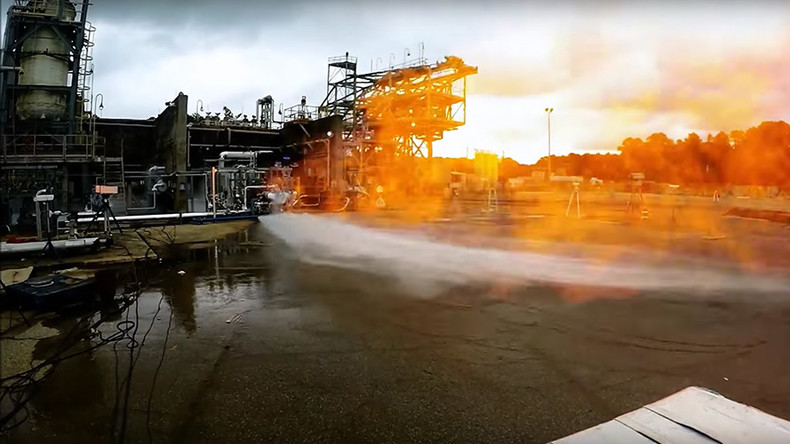 A fully 3D-printed rocket engine is almost complete: 75 percent of all the necessary parts have already been manufactured, put together and successfully tested by NASA.
The 3D-printed engine parts, all combined in a real space propulsion system, generated 20,000 pounds of thrust when they were test-fired with cryogenic liquid hydrogen and oxygen by a team from NASA's Marshall Space Flight Centre in Huntsville, Alabama.
"We manufactured and then tested about 75 percent of the parts needed to build a 3-D printed rocket engine," Elizabeth Robertson, the project manager for the additively manufactured demonstrator engine at the Marshall Space Flight Center, said in a NASA press release.
"By testing the turbo pumps, injectors and valves together, we've shown that it would be possible to build a 3-D printed engine for multiple purposes such as landers, in-space propulsion or rocket engine upper stages," she added.
Seven tests were conducted by NASA specialists, with the longest lasting 10 seconds. During the experiments the engine experienced both extreme heat, as fuel was burned in the propulsion system at a temperature of more than 3,315C (5,999F), and extreme cold, with its turbo pump delivering liquid hydrogen cooled below -240C (-400F).
These tests allowed scientists to dismiss doubts concerning the possible higher delicacy of 3D-printed parts in comparison with traditionally manufactured space engine elements that could prevent them from being used in real rocket launches.
"These NASA tests drive down the costs and risks associated with using additive manufacturing, which is a relatively new process for making aerospace quality parts," Robertson said.
Nick Case, the testing lead of the project, also commented on the issue: "What matters is that the parts work the same way as they do in a conventional engine and perform under the extreme temperatures and pressures found inside a rocket engine. The turbo pump got its 'heartbeat' racing at more than 90,000 revolutions per minute (rpm) and the end result is the flame you see coming out of the thrust chamber to produce over 20,000 pounds of thrust, and an engine like this could produce enough power for an upper stage of a rocket or a Mars lander."
NASA has been working on the 3D-printed engine project for more than three years in cooperation with various companies, and had already conducted separate tests for some of the 3D-printed parts in 2014.
The engine components are built by a 3D printer by layering metal powder and fusing it together in a process of 'selective laser melting.'
The 3D-printing process allowed the scientists to build more complex pieces of the engine which would usually consist of several separate parts. As a result, the engine's turbo pump had 45 percent fewer parts than its traditional analogues; the injector had over 200 fewer parts than a traditionally manufactured version and contained features that became possible only with 3D-printing.
Additionally, the parts such as valves that usually take more than a year to produce were created in a few months, the press release says.
NASA's future plans include adding new 3D-printed components to the engine such as a cooled combustion chamber, a nozzle and a turbo pump for liquid oxygen as well as conducting tests with liquid oxygen and methane, as these substances could potentially be produced on Mars and become key propellants for the Martian landers.