"Affluenza" teen on probation for killing 4 in drunken crash disappears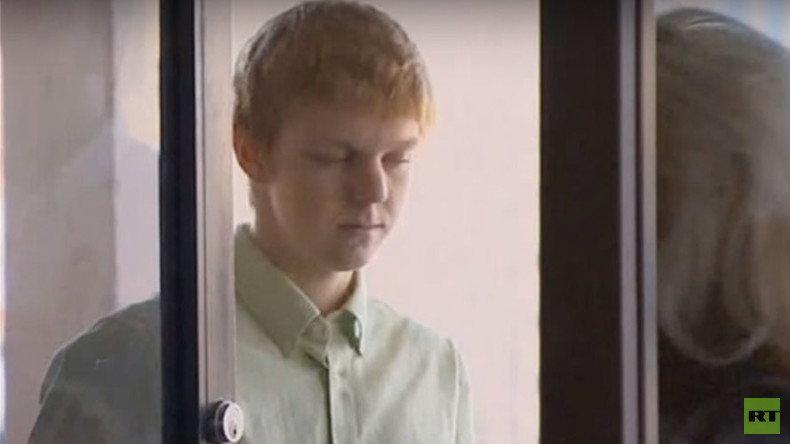 Two years into a ten year probation sentence for killing four people in Texas while driving drunk, Ethan Couch's probation officer admitted he cannot reach the 18-year-old or his mother, whom he is supposed to be living with.
A warrant for Ethan's arrest has been issued and an investigation into his disappearance has begun. According to Tarrant County Sheriff Dee Anderson, it looks like Ethan, and whoever he is with, has gotten a long head start.
NEW: Ethan Couch "Wanted" Poster. U.S. Marshals looking for "Affluenza" teen.

— Sheena Smith (@Sheena_Smith) Dec 18 2015
"We all know the family has plenty of money and I think this was planned and they're going to run far and try to hide", said Anderson in an interview with Reuters.
The disappearance comes a couple of weeks after a video surfaced online, appearing to show Ethan at a party surrounded by alcohol, which would be a violation of his probation.
Read more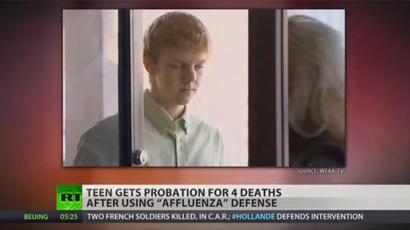 On June 15th, 2013, Couch and some friends were drunk from beer they stole from Walmart when he crashed into a group of people on highway. Hollie Boyles and her daughter Shelby were helping their friend Breanna Mitchell when her SUV has broken down. Youth pastor Brian Jennings also stopped to help.
All four were killed and two of Couch's passengers were thrown from the truck and injured severely. In a test carried out three hours after the crash, Couch had a blood alcohol level three times the legal limit.
The parents of one of the injured teens, who suffered life-changing brain injuries, sued the Couch family for US$2million.
The then 16-year-old made national headlines for citing "affluenza," or being spoiled by his rich parents, as his defense. In 2013 Couch's attorneys argued that his privileged upbringing meant he didn't understand the consequences of his actions.
READ MORE: California bill would prohibit 'affluenza' defense for the accused and wealthy
Prosecutors had asked for 20 years in prison, but a Tarrant County juvenile court judge sentenced him to ten years of probation and long-term mental health treatment.
Eric Boyles, the husband of Hollie and father of Shelby, said the judge was too lenient.
"The primary message has to absolutely be that money and privilege can't buy justice in this country," he said.
However Couch's attorney Reagan Wynn said the goal of the juvenile justice system is to rehabilitate more than punish.
"I would submit to you that kids who do things by accident or mistake probably should not be locked up with the key thrown away," he told CNN's 'New Day'.
READ MORE: Family of 'affluenza' drunk-driving teen to pay victim $2 mn