Republican hopefuls split on NSA surveillance, Trump wants to 'shut down' parts of internet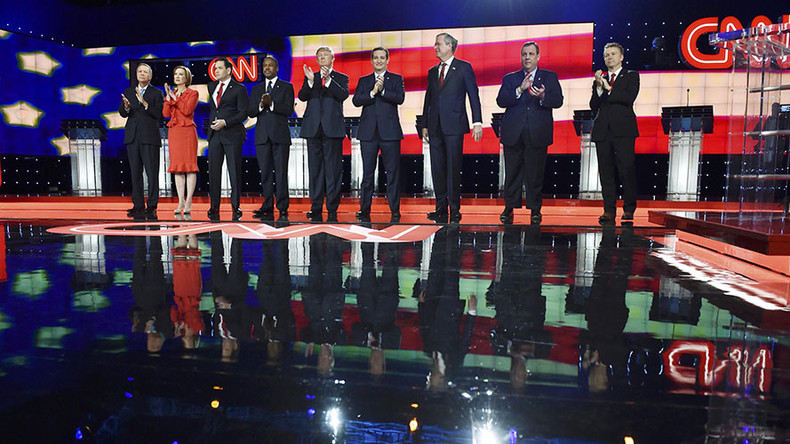 The issue of government surveillance was one of the key issues discussed at the Republican debate in Las Vegas. While Donald Trump wants to close parts of the internet, Ted Cruz and Marco Rubio were at odds as to how far the NSA should be allowed to go.
Cruz was adamant he did the right thing in supporting a vote in the Senate to implement the USA Freedom Act, to end "the federal government's bulk collection of phone metadata of millions of law abiding citizens."
The USA FREEDOM Act gives us greater ability to focus on the bad guys and stop acts of terrorism. #GOPDebate

— Ted Cruz (@tedcruz) December 16, 2015
The 44-year-old was critical of the mass harvesting of data by the National Security Agency (NSA).
"The old program covered 20 percent to 30 percent of phone numbers to search for terrorists. The new program covers nearly 100 percent. That gives us greater ability to stop acts of terrorism," adding that the USA Freedom Act allows the authorities to monitor cell and internet phones, as well as landlines.
His rival Rubio was certainly not in agreement with Cruz as he lamented the loss of the metadata program, which was "a valuable tool that we no longer have at our disposal."
"This bill did, however, take away a valuable tool that allowed the National Security Agency and other law — and other intelligence agencies to quickly and rapidly access phone records and match them up with other phone records to see who terrorists have been calling," Rubio said.
"I promise you, the next time there is attack on — an attack on this country, the first thing people are going to want to know is, why didn't we know about it and why didn't we stop it? And the answer better not be because we didn't have access to records or information that would have allowed us to identify these killers before they attacked," he added.
The NSA ended its mass metadata surveillance program on November 28, two-and-a-half years after Edward Snowden's revelations, in accordance with the USA Freedom Act.
Trump, who is leading the Republican polls, did not wade into the issue of national surveillance. However, he had his own radical way of how to try and stop Islamist terrorists from spreading propaganda online.
"I don't want them using our internet to take our young, impressionable youth and watching the media talking about how they're masterminds — these are masterminds. They shouldn't be using the word 'mastermind'," he said.
The billionaire proposed working with "our brilliant people from Silicon Valley" to "figure out a way that ISIS [Islamic State, IS] cannot do what they're doing."
"As far as the internet is concerned, we're not talking about closing the internet. I'm talking about parts of Syria, parts of Iraq, where ISIS is… spotting it," Trump added.
Ohio Governor John Kasich sided with Rubio, but went even further by citing problems concerning encryption, saying that intelligence officials were unable to act before San Bernardino because the terrorists were using encrypted phones.
"Encryption is a major problem, and Congress has got to deal with this and so does the president to keep us safe," he said.
.@RandPaul: "To close the Internet would violate the Constitution and would specifically violate the First Amendment." #Hannity

— Sean Hannity (@seanhannity) December 16, 2015
Rand Paul also lashed out at Rubio's desire to store metadata, saying the mass trawling of phone records did nothing to keep Americans safe.
"We are not any safer through the bulk collection of all Americans' records. In fact, I think we're less safe. We get so distracted by all of the information, we're not spending enough time getting specific immigration — specific information on terrorists," he said.
"In defending America, we cannot lose what America stands for. Today is the Bill of Rights' anniversary. I hope we will remember that and cherish that in the fight on terrorism," he concluded.
LISTEN MORE: