GOP debates Syria, Assad: Moderate rebels 'like a purple unicorn, they never exist'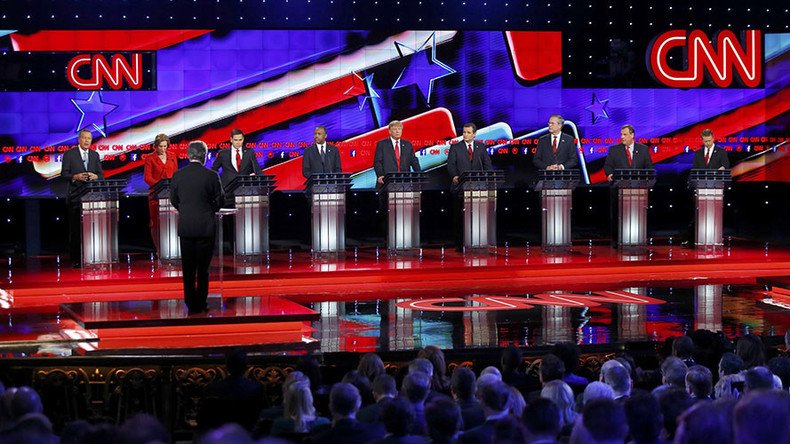 As GOP presidential candidates clashed on foreign policy Tuesday, some voiced support for keeping Syrian President Bashar Assad in power, despite current US policy. Senator Ted Cruz also questioned the US's support for moderate Syrian rebels, comparing them to "a purple unicorn."
Duking out the fifth and final Republican debate this year on the stage in Las Vegas were the nine highest-polling GOP candidates, including billionaire frontrunner Donald Trump, Texas Senator Ted Cruz, Florida Senator Marco Rubio and former Florida Governor Jeb Bush.
While much of the foreign policy debate centered on the refugee crisis and the fight against Islamic State (IS, previously ISIS/ISIL), candidates also spoke out about the political situation in Syria and whether the US should stand for removing dictators, including Syrian President Bashar Assad.
"I believe in an America-first foreign policy," Cruz said, responding to a question about whether the world would be safer if Iraq, Libya and Egypt were still ruled by Saddam Hussein, Muammar Gaddafi, and Hosni Mubarak, respectively.
He criticized NATO's intervention in Libya, saying that even though Americans were told that moderate rebels would take over, "the result is, Libya is now a terrorist war zone run by jihadists." He also questioned support for the Egyptian revolution, saying a "terrorist organization" in the form of the Muslim Brotherhood came to power afterward, and that the US needs to "learn from history" when it comes to Syria.
"These same leaders — Obama, Clinton, and far too many Republicans — want to topple Assad. Assad is a bad man. Gaddafi was a bad man. Mubarak had a terrible human rights record. But they were assisting us — at least Gaddafi and Mubarak — in fighting radical Islamic terrorists," he said.
"If we topple Assad, the result will be ISIS will take over Syria, and it will worsen US national security interests."
On this issue, Cruz squared off with Rubio, who said: "If they [dictators] go, I will not shed a tear."
"The government in Saudi Arabia is not a democracy, but we will have to work with them. The government in Jordan is not perfect, but we will have to work with them," he said. But when it comes to "anti-American dictators like Assad, who help Hezbollah … if they go, I will not shed a tear."
In response, Cruz argued that it was wrong to think that he US could find credible local partners for regime change in the Middle East.
"We keep hearing from President Obama and Hillary Clinton and Washington Republicans that they're searching for these mythical moderate rebels. It's like a purple unicorn. They never exist. These moderate rebels end up being jihadists," he said.
Kentucky Senator Rand Paul also jumped in, arguing that the regime change polices many GOP candidates support have not worked.
"[Other GOP candidates and neoconservatives] still want regime change. They want it in Syria. They wanted it in Iraq. They want it in Libya. It has not worked," he said. "Out of regime change you get chaos. From the chaos you have seen repeatedly the rise of radical Islam. So we get this profession of, oh, my goodness, they want to do something about terrorism and yet they're the problem because they allow terrorism to arise out of that chaos."
Meanwhile, Cruz and Rubio also squared off on approaches to fight ISIS. While Cruz said "overwhelming air power" should be used, Rubio argued that airstrikes need ground troops' support, including American special operations forces.
"ISIS is winning the propaganda war," he said. "We have to show what life is really like in ISIS territory."
For his part, New Jersey Governor Chris Christie suggested that a key to defeating ISIS is in focusing on Iran.
"ISIS is created and formed because of the abuse that Assad and his Iranian sponsors have rained down on Sunnis in Syria," he said. "We need to focus our attention on Iran, because if you miss Iran, you miss ISIS."
GOP frontrunner Trump, who has previously argued that the US should not get involved, has now expressed his support for stopping jihadists by closing down "parts of [the] internet." He then clarified that he really meant "parts of Syria, parts of Iraq, where ISIS is."
He has also suggested going after the families of terrorists as a way to combat the group.
Trump was confronted by Bush, who did not hesitate to note a change in his rival's stance, calling his approach "another example of the lack of seriousness" and his proposal "crazy."
"Two months ago, Donald Trump said ISIS is not our fight," Bush said, setting off a round of bickering between the two.
You can share this story on social media: