'Brute force': Judge rules police 'intentionally' dragged, Tasered Chicago prisoner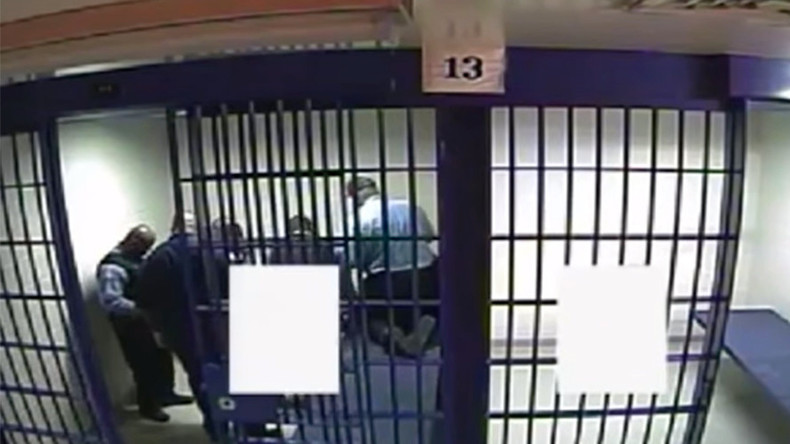 A Chicago police employee used "brute force" as he repeatedly Tased and dragged a black prisoner from his cell and down a hallway prior to his death, a federal judge has ruled. The misconduct in 2012 was caught on video, but made public only recently.
The abuse was committed by Keith Kirkland, a civilian detention aide at a police station lockup. US District Judge Matthew F. Kennelly also found his supervisor, Sargent Tommy Walker, liable for not stopping the encounter, the Chicago Tribune reported.
The court has also failed to find any evidence proving that the prisoner, Philip Coleman, who died shortly afterwards, had been given a chance to voluntarily leave his cell after being repeatedly hit with a Taser.
"Kirkland chose to use brute force when it was no longer necessary," said the ruling released by Judge Kennelly on Monday. "Sgt. Walker conceded during his deposition that the officers could have stood Mr. Coleman up and told him to walk ... It is undisputed that Sgt. Walker could have ordered Kirkland not to drag, or to stop dragging, Mr. Coleman and that he chose not to do so."
The civil lawsuit was filed by Coleman's father, Percy Coleman, on behalf of his son's estate. Percy Coleman sued the City of Chicago and a number of police officers. He has also requested a summary judgment on the dragging incident.
"I bet the officers thought they'd go home free until today's ruling," Percy Coleman said in a statement provided by his attorney on Monday. "Now, I hope they'll lose some sleep just like we've lost sleep, as yesterday was the three-year anniversary of our son's death."
Philip Coleman, who was 38 at the time, was arrested in December of 2012 for domestic battery. Left in a cell overnight, he was visited by law enforcement on the morning he was scheduled to appear in court. According to police, Coleman verbally refused to leave the lockup. The man was repeatedly Tasered, then dragged out of the cell and along a hallway by handcuffs.
"There is no question that Officer Kirkland's dragging of Mr. Coleman along the floor by his handcuffs, constituted intentional use of force," the Kennelly wrote.
The encounter between Coleman and "four or five officers" was caught on surveillance cameras.
Coleman was hospitalized at Roseland Community Hospital, where he died the next day on December 13, 2012.
"Evidently, he was Tasered again at the hospital," Judge Kennelly wrote.
Coleman died after having a reaction to an antipsychotic drug called haloperidol that he had been given. However, an autopsy also showed that he had suffered severe trauma, including more than 50 cuts and bruises all over his body.
It is now up to a jury to decide on the damages – including punitive damages.
The case of Philip Coleman resurfaced last week after a video of the 2012 misconduct was publically released by Chicago Mayor Rahm Emanuel on December 8.
The move triggered mass protests with hundreds of furious demonstrators demanding Emanuel's resignation and an investigation into his administration.