'Prayers for my baby': Texas mom arrested for cancer scam involving 7-year-old daughter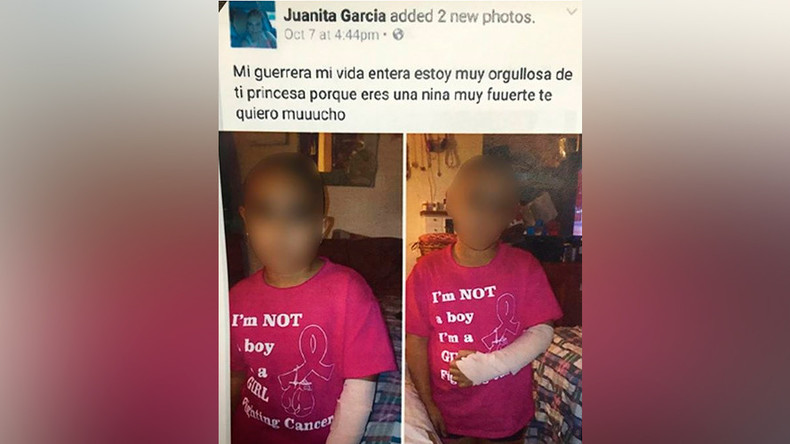 Texas police have arrested a woman who allegedly falsely claimed her 7-year-old girl had been diagnosed with cancer to scam people for money. Shaving her head and posting staged photos on social media, the mom said her daughter had just months to live.
Juanita Garcia, 46, was arrested by the Hidalgo County Sheriff's Office for the cancer con and charged with exploitation of a child – a third-degree felony.
The investigation began on October 22, when Child Protective Services told the sheriff's office that Garcia had been organizing fraudulent fundraisers for her daughter. The organization also discovered she had told potential donors that her daughter had only months to live, both in person and on social media, the Washington Post reported.
"My princess fighting her cancer I know she will prayers for my baby," read one post Garcia made on Facebook on June 24, which featured a photograph showing the girl wearing a mesh or gauze-like cap.
Investigators found Garcia had even shaved the girl's head to portray a side-effect of cancer treatment, Hidalgo County Sheriff's Office spokesman Sargent J. R. Rodriguez told CBS affiliate KGBT‑TV.
In another post to Facebook shared by investigators, a photo shows the little girl with a shaved head wearing a T-shirt that reads "I'm not a boy. I'm a girl fighting cancer."
"Witnesses reported that Garcia would approach them asking for monetary donations to pay for her daughter's cancer treatments," police said in a statement. "Through the course of the investigation, investigators discovered that the 7-year-old child had been medically evaluated, and no illness had been found."
During questioning, Garcia admitted that her daughter had never been diagnosed with cancer, and that she had accepted monetary donations from various people.
The arrest was made on December 10. Court records do not list a defense attorney for her, but records show that Garcia was released Friday on a $10,000 bond, according to the New York Daily News.
Police data has not revealed how much Garcia was able to con or what happened to the money she collected. The sheriff's office cautioned the public to remain vigilant against fraud.
"We don't want to discourage people to participate in those fundraisers, but we do want them to be cautious," Rodriguez told KGBT-TV.
The Washington Post reported there have been similar cancer scams using social media. A Colorado woman received a 90-day jail sentence last year for faking a cancer diagnosis for her son. The woman received thousands of dollars in donations and free trip to Disneyland, according to the Post.
In a related case, a 40-year old Oklahoma woman falsely claimed she had been diagnosed with cancer on Facebook. She also shaved her head and received money for treatment, including $3,000 from one group, according to the state's attorney general.
In New York, the state's attorney general announced in July that investigators had found donors had given millions of dollars to the National Children's Leukemia Foundation for, among other things, a bone marrow registry and cancer research building. The trouble was that neither existed. The one-man foundation was run by Zvi Shor, who paid himself an annual salary of over $500,000, with additional contributions to a lifetime pension of $100,000 a year. State investigators also found that the foundation's Make a Dream Come True program, which claimed to help children go to places like Disney World, was also non-existent or "gornisht" [Yiddish for "nothing"].