Flint mayor declares emergency over lead water crisis, FEMA delivers 28,000 liters of H20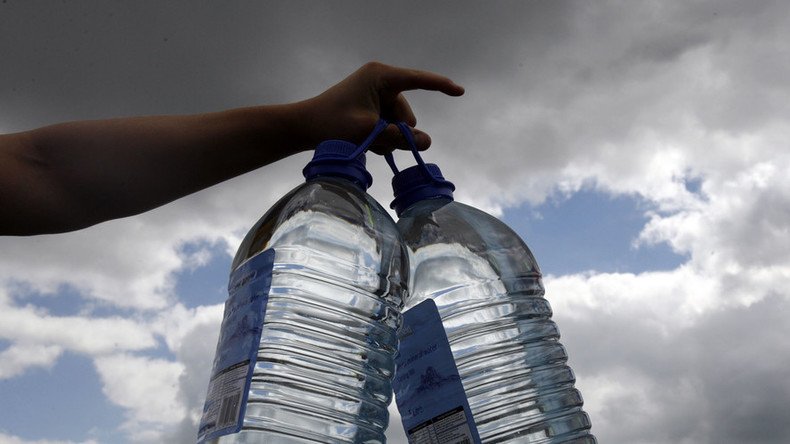 The mayor of Flint, Michigan declared a public health emergency on Monday after tests showed the city's water is causing elevated levels of lead in children. Residents have been complaining for months about the smell, taste, and look of the city's water.
Flint Mayor Karen Weaver declared the state of emergency at City Hall, calling on the board of commissioners to conduct a special meeting before the end of December to take action on the water crisis, according to NBC News 25.
"The City of Flint has experienced a manmade disaster," Weaver said, in a statement announcing the state of emergency, which takes effect immediately.
"The City of Flint children have experienced increased blood lead levels since the switch to the Flint River… this damage to children is irreversible and can cause effects to a child's IQ, which will result in learning disabilities," she added.
Residents have been told not to drink unfiltered tap water due to the elevated levels of lead.
"Individuals who have respiratory conditions should not use the water, pregnant women should not use the water – it's imperative that they not use the water," County Commissioner Brenda Clack announced, according to NBC News 25.
Mayor Weaver also called on the federal government for continuing help. Two trucks from the Federal Emergency Management Agency (FEMA) delivered 28,000 liters of water to a food bank on Monday. The water will be donated to "partner agencies" that will distribute the water to residents.
Michigan Governor Rick Snyder announced last week that the state will spend $1 million to buy water filters and immediately test the water in Flint's public schools. He also announced expanding health exposure testing, continued free water testing, and water treatment for the Flint River.
The city used the Flint River as its water source from April 2014 until October 2015.
Flint is 60 miles north of Detroit, and was among a number of communities that had complained about the rising cost of Detroit's water and sewerage service, which served about 4 million people in southeastern Michigan. City administrators opted to temporarily use the Flint River until a new waterline from Port Huron opens in 2016 at an annual cost of $12.5 million.
The decision to break away from the Detroit system was made while Detroit was in a financial crisis and had an emergency manager appointed by Governor Snyder.
"In terms of a mistake, what I would say is we found there are probably things that weren't as fully understood when that switch was made," Snyder said last week.
Even though water from the Flint River was treated, it is still corrosive and contains about eight times more chloride than Detroit's water does.
"Chloride is generally considered to be very corrosive to iron. For instance, chloride present in road salts applied in the winter causes iron in cars and bridges to rust," according to Virginia Tech University, which released a study on Flint River water based on 300 samples in September.
The study found the water "very corrosive" and to be "causing lead contamination in homes."
"On a scientific basis, Flint River water leaches more lead from plumbing than does Detroit water," the report concludes. "This is creating a public health threat in some Flint homes that have lead pipe or lead solder."
In August, researchers reported that 42 percent of 120 initial samples from Flint contained lead more than five parts per billion (ppb), "which suggests a serious lead-in-water problem, according to our experience and criteria."
Water systems are required to take action if more than 10 percent of samples exceed 15 ppb.
A coalition of residents and national groups, called Water You Fighting For, has petitioned the US Environmental Protection Agency to order the state to reconnect Flint to Detroit water.
You can share this story on social media: