S. Dakota man arrested for having 114 guns, explosive devices; uncle blames Obama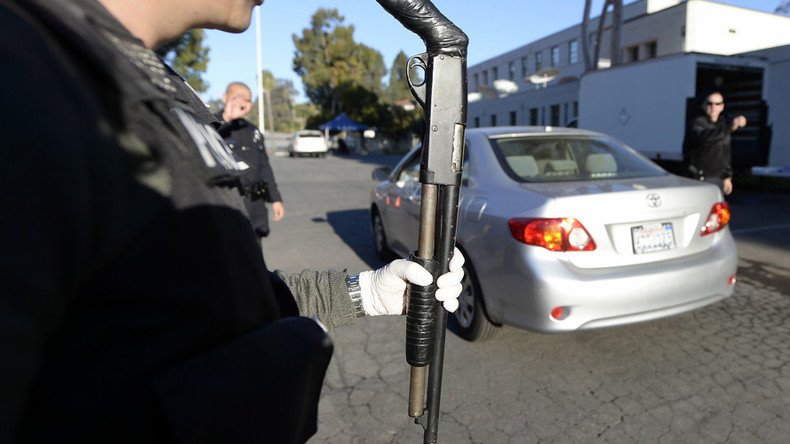 When a South Dakota man noticed a hole in his wall and a slug in his mattress, police investigated his next-door neighbor, Darren Kyle Zafft, uncovering an arsenal of illegal weapons and explosive devices. Zafft's uncle blames the arrest on the president.
A resident of a Sioux Falls apartment complex was changing his sheets when he noticed a hole in his linens, leading him to discover a .22-caliber slug embedded in the mattress. He then found a matching bullet casing and a hole in the wall between his bedroom and his neighbor's apartment, KSFY reported.
After the tenant had notified the police, the property manager told responding detectives that he had been in the adjoining apartment recently and noticed several guns, prompting the authorities to obtain a search warrant for Zafft's unit, police spokesman Sam Clemens told the Sioux Falls Argus Leader.
Once inside, officers discovered 114 guns, 15 to 20 of which were illegally-modified, "sawed-off" shotguns and rifles. They also found two handmade silencers, multiple grenades, about 10,000 rounds of ammunition, and $20,000 cash. The bomb squad was called in to remove gunpowder, fuses, and other equipment for making explosive devices.
"This could have been a very dangerous situation," Clemens said. "Dealing with these explosives; that's something we don't normally do. We don't know if he was putting these components together in the home or in another place; that's one of the things we're working on."
Authorities arrested Zafft, 29, and his 35-year-old wife, Jennifer Marie Cash, on multiple weapons-related charges, including possession of explosives and possession of a controlled weapon, KELO reported.
"Certainly, it's not against the law to have guns, and some people have many guns," Clemens told local media. The issue, he noted, is that the barrels of the guns were shortened. In South Dakota, as in much of the country, it is a felony for a shotgun or rifle barrel to be less than 18 inches long and the overall length of the firearm must be at least 26 inches.
That distinction appeared to be lost on a man who identified himself to the Argus Leader only as Zafft's uncle.
"They aren't going after criminals; they're going after guns. I blame Obama for this," the man said.
The bomb components found in the apartment aren't necessarily illegal either, but become so once they are combined, packaged, or altered to make an explosive device.
"You've got all these different components," Clemens said, "when you start taking steps to make explosives, that's illegal."
"You don't just accidentally make a bomb," he added.
Authorities don't know what the couple's motivation was.
"We don't have an answer to why they had them," Clemens said. "Whether or not we'll ever find out what his intent or purpose of having it, we may never know. I don't think we've had any indication that there was any type of plans to use these devices, but at this point we just don't know."
Zafft has a history of weapons-related arrests, the Argus Leader reported. He was convicted of two counts of reckless use of weapons in 2010 and sentenced to a year in jail. In 2005, charges for discharging a weapon within city limits and disorderly conduct were dismissed, as was a 2003 charge for hunting from a motor vehicle.
His grandmother, Lesa Zafft, said that many of the weapons that the police found actually belonged to her grandson's relatives but were stored in his apartment when she had been facing a felony conviction last year.
"This has been years of collecting … he collects," Lesa told the Argus Leader. "That's our family. We collect guns … They think ISIS is going on, and I'm sure we look like some little anti-terrorist cell," she added, referring to the Islamic State (IS, formerly known as ISIS/ISIL).
Zafft was charged with two counts of possession of explosives with criminal intent, each carrying a potential 15-year prison sentence; two counts of possession of a controlled weapon, each with a potential two-year sentence; two counts of committing a felony while carrying a firearm, each of which could land him in prison for up to 25 years; and possession of materials to make explosives, an offence with a five-year sentence. His bond was set at $1 million – cash only.
Zafft's wife has no prior criminal record and her bond was set at $5,000, also in cash only, the Argus Leader reported. She is an education assistant at an elementary school in the Sioux Falls School District. The school district released a statement telling the community that the students had never been in harm's way.
"This individual was not at work today, and at this time, we have no reason to believe that our students or staff were ever in danger," the statement read. "However, because the safety of our students is our highest priority, we will continue to work with police in this investigation and we remain committed that our schools will continue to be safe places for our children."
The Bureau of Alcohol Tobacco and Firearms is investigating, and federal charges against Zafft and Cash could be filed, Sioux Falls County Prosecutor Aaron McGowan said in court on Friday. He called Zafft a threat to law enforcement, citing a photo of a burning police car on his Facebook page.
You can share this story on social media: