Truck crashes into train causing massive fire in Oregon (PHOTOS)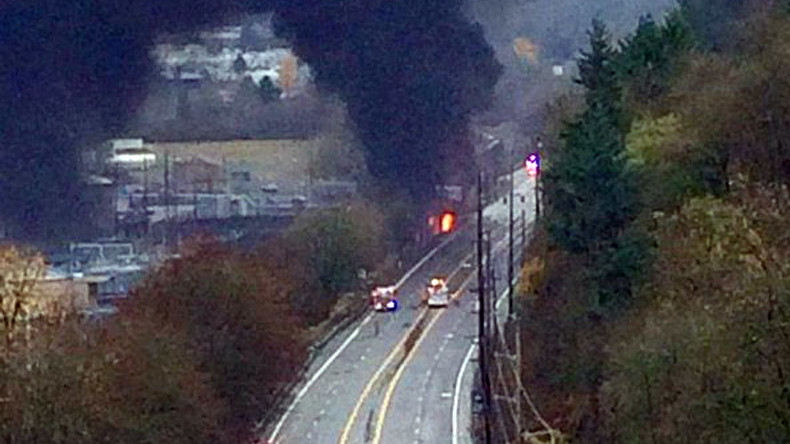 A large industrial fire has erupted in northwest Portland, Oregon after a truck crashed into a train, causing a massive fire. Flames could be seen from afar and huge clouds of black smoke darkened the sky.
Six tanker railroad cars erupted into flames at an industrial facility in northwest Portland south of the St. Johns Bridge along Highway 30 early on Sunday with some residents reporting loud explosions in the area, local media reported.
A truck had crashed into the train, causing the fire. The driver of the truck died, The Oregonian reported, citing Portland Police Bureau.
Several fire brigades are battling the third-alarm blaze with crews from several agencies aiding with fire-fighting operations. The firefighters also called for extensive backup, requesting special fire-suppression foam from Portland International Airport, The Oregonian reported.
The firefighters fear that more explosions could potentially take place. According to the Portland Fire and Rescue service, the fire material is hot asphalt, which will take several hours to cool. The firefighters expect residual smoke and steam during this time and have called on local residents to stay indoors and out of smoke.
The fire teams are also trying to prevent chemicals and contaminants from getting into the Willamette River. Some people have been evacuated from the area, reported The Oregonian.
Highway 30 and St. Johns Bridge are closed in both directions in northwest Portland because of the incident. Other roads in the area have also been shut down.
The local holiday half marathon has also been canceled with runners being transported out of the area by buses.
You can share this story on social media: