Chicago's McDonald family demands White House police brutality summit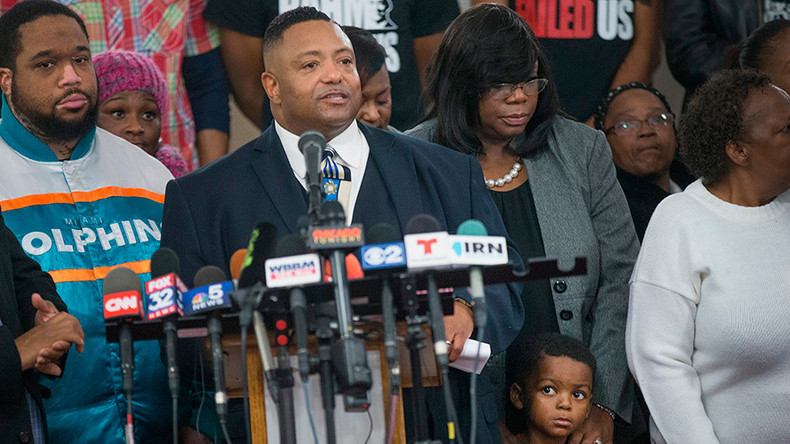 Relatives of Laquan McDonald, the Chicago teen fatally shot 16 times by police a year ago, called on President Obama to convene a White House summit on gun violence and police brutality.
Activists in Chicago have been protesting for weeks since police released video showing the shooting in November, though the incident itself occurred in 2014.
"Mr. President, I want you to send a representative to convene a White House summit on gun violence, and urban poverty, and police brutality," said McDonald's great uncle Rev. Marvin Hunter on Friday, according to CBS Chicago.
Hunter said a federal summit should be held in the North Lawndale neighborhood where McDonald lived. The family also thanked the thousands of activists for demonstrating in support of the teen.
"Their cries are all the same: justice," said Hunter, reported DNAinfo. "They are marching because they could feel the pain of the …family. Because they've felt it personally before."
Rev. Hunter said much more still needs to be done before the family finds closure, and that he doesn't want the world to think his son was trouble. "He was a teddy bear, he wasn't a gangster," said Hunter.
"Time and time again, black people are being mistreated by the legal system here, by the Chicago Police," Hunter said. "We're suffering because of laws and policies put in place. We need real resources to change that."
Chicago has become the latest front for activists' protests against police brutality for the past two weeks. Protesters allege city administrators and the state attorney had covered up the shooting and delayed releasing video of the shooting, despite Freedom of Information Act requests filed by the Chicago Tribune, Wall Street Journal, and most recently journalist Brandon Smith.
Police cited an ongoing investigation into the shooting as the reason for the delay, but the footage was finally released on the same day police officer Jason Van Dyke was charged with McDonald's murder.
"He didn't fit in his personality; the profile that Jason Van Dyke had of him – and all black boys – in his mind," Hunter said.
Hunter said his nephew's death was a tragedy, but it symbolized a much larger problem.
"Laquan McDonald represents thousands of Laquan McDonalds; same black skin, same poverty, same social and economic injustices," he said.
Hunter called for Cook County State's Attorney Anita Alvarez to resign, but he fell short of calling for Mayor Rahm Emanuel to step down.
Protesters began marches and rallies by calling for the resignation of Emanuel, Chicago police chief Garry McCarthy, and state attorney Anita Alvarez because of the delay.
A new poll of city voters suggested Emanuel wouldn't be mayor today if City Hall had released the shooting video before the April election. The telephone survey of Chicagoans who voted in the city elections showed that if the contest between Emanuel and Cook County Commissioner Jesus "Chuy" Garcia were held today, Emanuel would have received only 28 percent of the vote.
Fifty-one percent of respondents said they would vote for "someone else." The poll was commissioned by Aldertrack, DNAinfo Chicago and WGN Radio.