US university says sorry for Palestinian flag ultimatum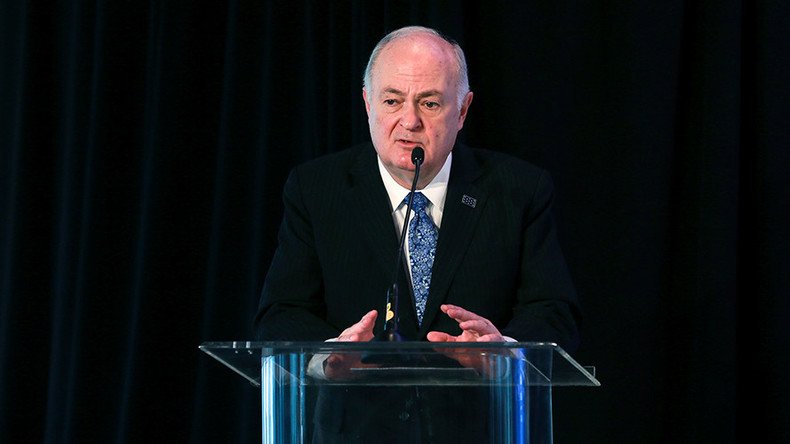 George Washington University president Steven Knapp has issued an apology to a student who was told to take down his Palestinian flag.
A university campus police officer entered Ramie Abounaja's room on October 26 and told him to take down the Palestinian flag that he had hanging from his window.
The officer said he had received multiple complaints and that the flag was in violation of the housing code.
Visitors to the university confirmed many other national flags hanging from dorm rooms without being taken down.
READ MORE: Co-op Bank Closes Palestinian Solidarity Campaign accounts
A week later, Ramie Abounaja received a warning letter from the university, threatening future disciplinary action, despite the fact he had removed the flag.
"As a member of the larger residential community we hope that you will be respectful of your peers and be aware of your behavior. The act of an individual has a profound impact on the community," it read.
Unsure of what he was in violation of, Ramie wrote a letter back. In it, he explained his reason for hanging the Palestinian flag: "I was motivated to do this after I had seen dozens of different banners and flags hung outside other residential campus living spaces throughout my three years here at GW. I felt like I was being singled-out, because of my heritage and the viewpoint of my speech, for something I've seen dozens of students, fraternities and other student groups do in my three years at GW."
Civil rights groups called the order a violation of free speech and said the actions pointed to anti-Palestinian sentiment.
Students for Justice in Palestine at GW said: "Flags of other countries hang out of dorm windows with no disciplinary consequence. Selective reinforcement of these rules is discrimination."
Universities in the US stand accused of cracking down on pro-Palestinian speech, with a high profile example in the state of Illinois where professor Steven Salaita was dismissed after tweeting about Israel's assault on Gaza in 2014.
The recent Palestinian Exception to Free Speech report revealed intensifying suppression Israeli criticism on campuses: "Israel's fiercest defenders in the United States — a network of advocacy organizations, public relations firms, and think tanks — have intensified their efforts to stifle criticism of Israeli government policies. Rather than engage such criticism on its merits, these groups leverage their significant resources and lobbying power to pressure universities, government actors, and other institutions to censor or punish advocacy in support of Palestinian rights."
Palestine Legal responded to 140 incidents and 33 requests for assistance in anticipation of potential suppression in the first 6 months of 2015. 80% of those were aimed at students and scholars.
The report highlights a number of tactics used to quash pro-Palestinian feeling in universities, including academic sanctions.
Northeastern University in Boston suspended a student group the spring of 2014 after members distributed flyers describing Israel's policy of demolishing Palestinian homes.
Around the same time, San Francisco State University investigated Professor Rabab Abdulhadi for going on a research trip to Palestine after an Israel advocacy group accused her of meeting with terrorists.
Palestinian Legal wrote to George Washington University, demanding they withdraw its warning letter and threat to sanction the student.
University President Steven Knapp said he has apologized to Abounaja and that the student had been subjected to a flawed process: "I have instructed the relevant offices to end the practice of sending warning letters to students solely because of a reported violation of a university policy. I have also instructed them to ensure consistent enforcement of all university policies."
You can share this story on social media: