Co-op Bank closes Palestine Solidarity Campaign accounts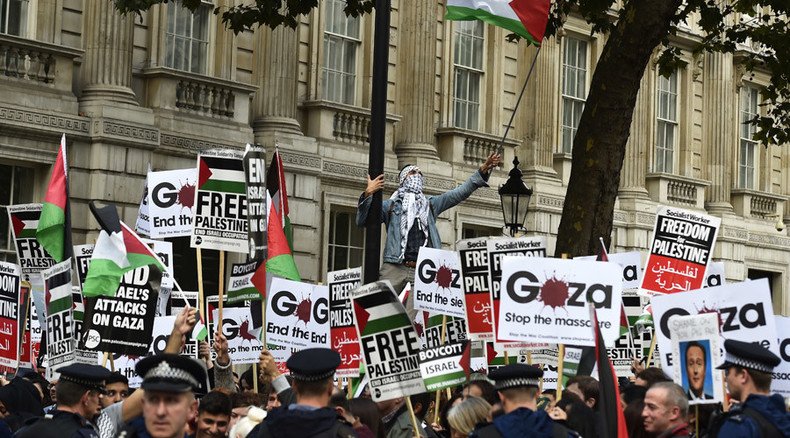 The Palestine Solidarity Campaign (PSC) has filed a lawsuit against the Co-operative Bank after the financial institution closed its accounts without warning last month.
The bank cited its "risk appetite" as the reason for the closure, according to the PSC, and has yet to comment further.
Lawyers for the PSC claimed the Co-operative Bank breached equality legislation because it discriminated against a group working in support of the Palestinian people.
The PSC said about 20 organizations working for Palestine, including numerous regional branches, have had their accounts closed or denied.
A statement issued by law firm ITN, which represents the PSC, said the bank must be held to account for its actions.
"It appears that the decision was taken because of [the] PSC's support for Palestine. A decision based on active support of Palestinian causes – or on the nationality or religion of the Palestinian people – would be discriminatory. It is in the wider public interest to ensure that banks are held to account for their decision making processes; a bank cannot be above the law by virtue of its status."
PSC Director Sarah Colborne said the bank, which markets itself as an ethical financial institution, has turned its back on its principles.
"The Co-operative Bank is very good at professing its ethical principles … It is very hard to see any evidence of these principles today. Instead it has closed the accounts of those working for human rights and equality for Palestine, offering no honest or transparent explanation – only the banking jargon of 'risk appetite.'
"It is quite clear that the Co-operative Bank no longer cares about human rights – the Palestinians suffer incursions on their human rights day in, day out at the hands of an occupying force that continues to violate international law.
"In the UK we have a great tradition of solidarity organizations coming together to stand against human rights violations throughout the world – this is something that the Co-operative Bank should support and not punish," she added.
You can share this story on social media: