'Rahm gots to go!': Chicago protests continue, new demands made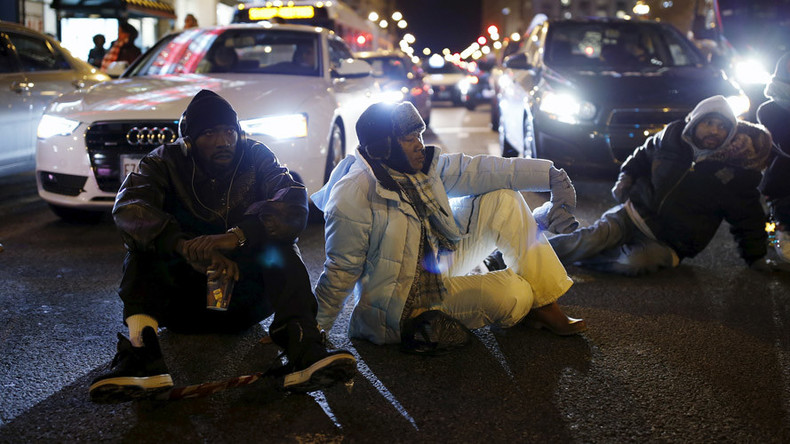 Thousands continued to protest throughout Chicago Thursday evening, calling for the resignations of Mayor Rahm Emanuel and the Cook County State Attorney with chants like "Anita Alvarez gotta go." New demands also emerged, as did new styles of protest.
"We have not seen the tip of the iceberg yet," Illinois Rep. La Shawn Ford (D-8th) told CNN on Thursday. "People are hurt, people have died, people feel that they are forgotten about in the city of Chicago."
Ford reluctantly introduced legislation to amend state law to allow Chicagoans to recall Emanuel, also a Democrat, via ballot measure, after his office received several requests to do so.
Protests prompted by the November 24 release of dashcam video of Laquan McDonald's death at the hands of Chicago police did not dwindle on Thursday. They were possibly even more dramatic than when they began weeks ago.
Early in the day at City Hall, medical students staged a "die-in," silently laying down for 16 minutes to symbolize the 16 gun shots officer Jason Van Dyke fired at McDonald in October 2014, including as he lay on the ground. The students covered themselves with signs, at least one reading, "do no harm."
Another, much larger die-in took place in the evening, and as forms of protests changed, additional demands were voiced. Some protesters called for the abolition of the Independent Police Review Authority (IPRA), and others wanted to see a new citizen body called the Police Auditor's Office with the power to sue and unconditionally oversee police and IPRA documents.
At one point, it seemed as though a protester with a bullhorn was shooing away trouble-makers mixing in with the peaceful protests, although that isn't completely clear. In a short video, a woman is heard saying, "...from Chicago, we don't want you representing us. Stay where the hell you at, and that's not Chicago."
Another idea championed by demonstrators was reform of public employee union contracts. Those in favor of such action say the contracts unfairly provide for covering up bad police behavior, such as one provision restricting internal investigators from questioning cops involved in shootings for the first 24 hours following the incident. Others pointed to policies that destroy complaint records after a number of years.
Although Mayor Emanuel has made apologies and promises while under a lot of pressure this past week, Chicago attorneys seemed to be going about their work unchanged. On Wednesday, they motioned in federal court to block the public release of video depicting the 2012 police shooting death of 17-year-old Cedrick Chatman, a carjacking suspect. A wrongful death lawsuit has been filed by the deceased's mother, meaning the story of Chicago's strife with city government is far from over.