Shooting stars: Geminid meteor shower lights up December sky this weekend
Published time: 10 Dec, 2015 22:44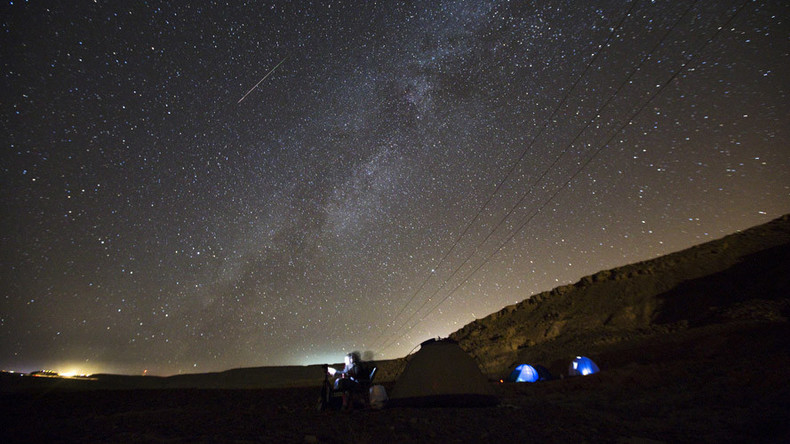 Stargazers are in for a dazzling spectacle this weekend as the Geminid meteor shower gets ready to peak on Sunday night.
NASA is predicting up to 100 meteors per hour at the shower's peak between 9:00pm on Sunday and Monday morning.
Stray Geminids should be spotted in the lead up to the peak, from December 12 and afterwards, until December 15.
The spectacular Geminids are highly anticipated every year, and since they were first seen in the 1860s they have been getting even brighter, according to observers.
They shine in different colors – usually white. However, yellow, blue, green and red can also be spotted.
Anticipation for this year's big event is already building among astronomy lovers.
Geminids appear to originate from the direction of the constellation Gemini, hence the name, but they can be seen in all parts of the sky.
In fact they are the debris of an asteroid called 3200 Phaethon. The earth passes through its debris field in mid-December, and some pieces burn up as they fall into the atmosphere.
The Geminids are unusual as most meteor showers are from comet debris, not asteroids.
The 3200 Phaethon is an unusually icy asteroid, which also sweeps in closer to the sun than the planet Mercury.

During the early evening it will also be possible to catch sight of an earthgrazer meteor. These are rarely-seen, slow-moving, long-lasting meteors that travel horizontally across the sky.
Last year the Geminids mesmerized people across the globe.
READ MORE: Dazzling performance: Geminids meteor shower peaking this weekend (PHOTOS)
This year the shower favors the Northern Hemisphere, but is visible from the Southern Hemisphere, too.
The best time to catch a shooting star is around 2:00am local time, when the radiant point – in the constellation Gemini – is highest in the sky.
This year, the moon will be a waxing crescent and won't get in the way of the shining show.