Dazzling performance: Geminids meteor shower peaking this weekend (PHOTOS)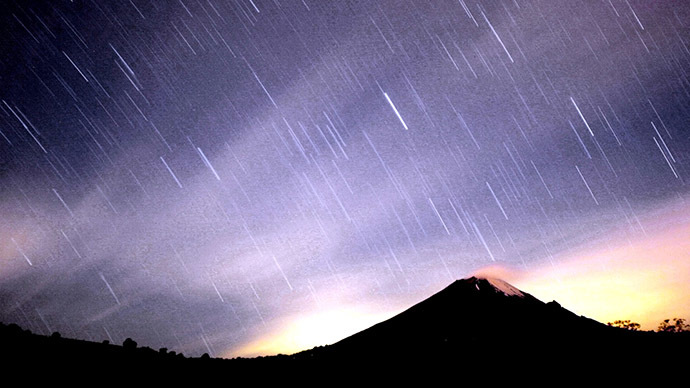 The Geminids shooting stars have reached their brightest point this weekend, and will continue shining vividly until the middle of next week in the Northern Hemisphere.
Last night was the best time to enjoy the Geminids meteor shower, which has been lighting up the skies above the US, the EU and Russia since last weekend. The meteoric performance will continue until Tuesday or Wednesday evening, according to NASA.
In the UK, weather conditions have been nearly perfect, despite some clouds hiding the stars occasionally, and the light of the three-quarters-full moon.
My best of the #Geminids tonight, streaking through #Orion. #ILM#FortFisher@StarNewsOnline@BadAstronomerpic.twitter.com/r9SvNP7O5g

— Lou FCD (@LouFCD) December 14, 2014
Hooray, I caught a Geminid! I can also just see M41 and open cluster NGC 2244 in the Rosette nebula. #Geminidspic.twitter.com/bJl42JfWA2

— Drunken Astronomer (@Corlykins) December 14, 2014
#Geminids meteor shower 2014 from Beacon Heights off Blue Ridge Parkway in NC. @weatherchannel@GuardianWitnesspic.twitter.com/1VStsJWQzq

— Hunter Ward (@Hvward) December 14, 2014
Captured a split-second of the #Geminid meteor shower! #geminids#meteorpic.twitter.com/VRqBTBOa9E

— Mike Morrison (@mikesbloggity) December 14, 2014
The meteor activity was busiest in the small hours, with up to 150 meteors per hour. 2 – 3 a.m. local time is the time when the radiant – the place where the meteors originate from – is overhead. One should gaze at the radiant near the bright star, Castor, in the Gemini constellation that give their name to the meteor shower.
The Geminid meteor shower hasn't disappointed at all in the skies over Florida. Thankful for this clear weather but I wish there were more fireballs - all of them are a bit dim. I think I've seen around 50 tonight (lost count actually) and it's still in its peak time. #geminid #geminids #meteor #meteors #meteorshower #florida #tampabay #milkyway

A photo posted by James Boone (@oldboone) on Dec 12, 2014 at 10:32pm PST
Catching shooting stars 13DEC14 #geminids #huntingisland #sc

A photo posted by Alfred Williams (@alfredwilliams) on Dec 12, 2014 at 11:14pm PST
"The Geminids are very strange because they hit Earth sideways," Slooh telescope astronomer Bob Berman said in a statement. "It's the difference between being in a car and slamming head on into somebody as opposed to someone backing into you sideways. These meteors hit us gently."
Two of the #geminids from last night's patience in low temp, deep snow and wind. #bns_norway #best_skyshots #bestofscandinavia #ignorway #ir_night #ic_nature #ic_longexpo #ilovenorway #ig_sharepoint #igscandinavia #loves_night #mittnorge #momentnorway #mittfriluftsliv #nightshooters #nightphotography #norskefototalenter #rsa_sky #RSA_nature #slowshutter #splendid_xposure #tv_illuminati #tv_longexposure #themarvelsof_nature #visitnarvik #visitnorway #astronomy #astronomyclub #astro_of_kingcanon73

A photo posted by Carlos Aunmo (@kingcanon73) on Dec 12, 2014 at 8:23pm PST
The geminids were amazing tonight. No matter where I am, whenever I hear there's a meteor shower, I drop whatever I'm doing and go watch them. Be present for these special moments the universe shows us. It's truly an amazing feeling. #geminids #meteorshower #stars

A photo posted by Tirzah Liane (@tzahlian) on Dec 12, 2014 at 8:46pm PST
The spectacular Geminids are highly anticipated every year, and since they were first seen in the 1860s they have been getting even brighter, according to observers.
What is remarkable about them is that they can shine in different colors - usually it's white, but yellow, blue, green and red can also be spotted.
Apart from the usual tips of avoiding light pollution and being patient, experienced stargazers advise to grab a comfortable chair and a blanket, and to share the unforgettable experience with friends and family.
The rather slow-moving Geminid meteors originate from the 3200 Phaethon asteroid. Along with the Quadrantids, they are the only major meteor showers that don't come from a comet.
Deep in the heart of Texas #geminids

A photo posted by Elena (@elenarey) on Dec 12, 2014 at 10:51pm PST
Watching the Geminids meteor shower. #stars #pnw #meteor #night #astro #astrology #evening #washington #wa #geminids #comet #earth

A photo posted by Brian Farchette (@cableguyx2002) on Dec 12, 2014 at 11:32pm PST