Muhammad Ali takes swing at Trump, calls ISIS 'misguided murderers'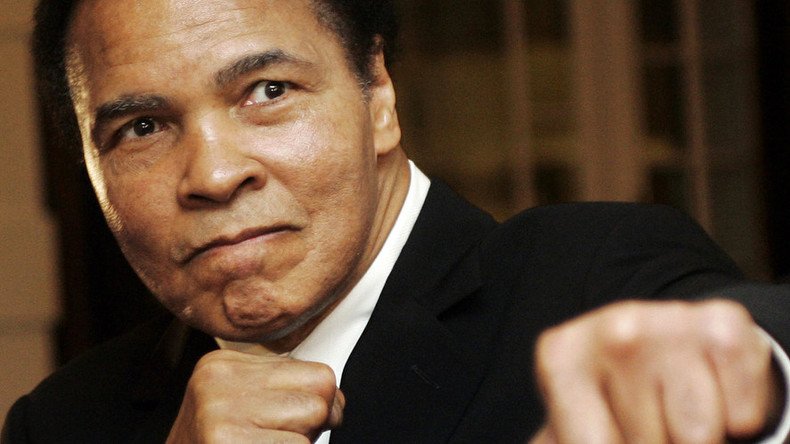 Boxing legend Muhammad Ali chided presidential candidate Donald Trump for wanting to ban Muslim immigration into the US, but saved his hardest punches for Islamic State militants, calling their killing of innocents a perversion of Islam.
Trump, who leads in the polls among contenders for the Republican presidential nomination, proposed on Monday to ban all Muslims from entering the US, citing "great hatred towards Americans by large segments of the Muslim population." The initiative followed last week's deadly attack in San Bernardino, California, apparently committed by a Muslim couple the FBI says were "radicalized" years ago.
"I am a Muslim and there is nothing Islamic about killing innocent people in Paris, San Bernardino, or anywhere else in the world. True Muslims know that the ruthless violence of so-called Islamic jihadists goes against the very tenets of our religion," Ali said in a statement released Wednesday night, specifically in response to Trump's call to ban Muslim immigration.
"We as Muslims have to stand up to those who use Islam to advance their own personal agenda," the legendary boxing champion added, arguing that political leaders ought to promote greater understanding of Islam and clarify that "these misguided murderers have perverted people's views on what Islam really is."
Ali's sentiments echoed those of President Barack Obama, who in September 2014 proclaimed that the so-called Islamic State (IS, formerly ISIS/ISIL) was "not Islamic" and that other Muslims were its foremost victims.
Though it was a clear criticism of Trump's initiative to punish all Muslims for the actions of IS, Ali's statement was more a butterfly than a bee, compared to the widespread condemnations coming from all over. White House spokesman Josh Earnest spent almost 45 minutes on Tuesday discussing Trump's "carnival barker routine," even criticizing the candidate's hair, and arguing that the Muslim immigration comment "disqualifies him from being president."
Many have brought up Ali as one of the Muslim "sports heroes" mentioned by Obama in a national address on Sunday. Responding to the San Bernardino attacks, the president advocated gun control measures and defended his strategy of dealing with IS in Iraq and Syria.a
While critics from all over the political spectrum criticized Obama's strategy – or what they said was lack thereof – Trump zeroed in on the Muslims as "sports heroes" line.
"What sport is he talking about, and who?" the candidate tweeted the evening before publicly advocating a ban on Muslim immigration. Trump had apparently forgotten about Ali, who he called "my friend" in a Facebook post in May.
Born Cassius Marcellus Clay, Jr. in 1942, the Kentucky native changed his name to Muhammad Ali in 1964, when he joined the Nation of Islam after beating Sonny Liston to win the world heavyweight boxing championship. Following a falling-out with the group's leadership in 1975, Ali became a Sunni Muslim.
This is not the first time Ali has defended Islam from terrorists, either. In a scheduled Reader's Digest interview on September 11, 2001, he said that the perpetrators of that morning's attacks in New York and Washington were not true followers of Islam.
"I am angry that the world sees a certain group of Islam followers who caused this destruction, but they are not real Muslims. They are racist fanatics who call themselves Muslims, permitting this murder of thousands," Ali said in the interview, as cited by the Washington Post.
You can share this story on social media: