Former Gitmo prisoner becomes influential Al-Qaeda leader in Yemen – report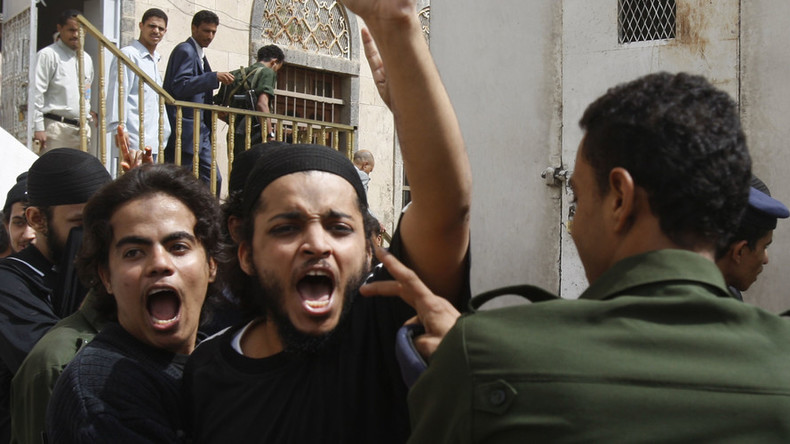 A former Guantanamo detainee who pleaded guilty to funding Al-Qaeda, and was later released in exchange for cooperating, has become a prominent Al-Qaeda figure in Yemen. The pardon came in spite of his prior classification as a high-risk inmate.
He has now appeared in a video entitled 'Guardians of Sharia', where he and other AQAP (Al-Qaeda in the Arabian Peninsula) members talk at length about waging jihad on the West, as well as pledging allegiance to mentor and former leader Osama bin Laden. The video address also sees Qosi expounding on the importance of following the teachings of Islamic scholars and praising lone-wolf attacks on American and other targets.
The recording is the first time the former inmate has gone public since his 2012 release. Two years previously, he pleaded guilty to charges of conspiracy and material support for Al-Qaeda, according to the online blog, Long War Journal.
While avoiding mentioning Islamic State (IS, formerly ISIS/ISIL) or its leader Abu Bakr al Baghdadi by name, those who viewed the footage believe a clear reference was being made, as Qosi called for believers to follow the teachings of recognized Islamic ideologues.
After joining AQ AP in 2014, Ibrahim Qosi, also known as Sheikh Khubayab al Sudani (owing to his Sudanese descent), became one of the group's most outspoken figures.
However, the fact should have come as little surprise to his former captors.
"[The] detainee is an admitted veteran jihadist with combat experience beginning in 1990 and it is assessed he would engage in hostilities against US forces if released," a leaked Joint Task Force Guantanamo (JTF-GTMO) threat assessment stated in 2007.
Together with other declassified documents, it outlined the history of Qosi's own recruitment into jihadist circles dating back to 1990, when he met two recruiters who enlisted him in the fighting in Afghanistan. Trained at Al-Qaeda's Frouq camp – the group's primary training facility before 9/11 – Qosi followed Osama bin Laden to Sudan in 1991. There, he acted as the former Al-Qaeda leader's accountant, helping him launder money through his front companies. He continued to act as treasurer after the terrorist group relocated to Pakistan and Afghanistan.
According to the JTF-GTMO assessment, Qosi rose to Al-Qaeda's elite security detail in 1994, following an attempt on Bin Laden's life. The role reportedly included undertaking particularly sensitive missions. Later in 1995, Qosi moved to Chechnya, before rejoining Bin Laden around 1996-1997 in Afghanistan.
The former Guantanamo detainee was seen fighting the Northern Alliance in Afghanistan for three years up until 2001, according to the analysis. He was captured a year later in December by Pakistani services. They called the group of militants he was captured with the 'Dirty 30'. It included other higher-ups in Bin Laden's security circle, including one who would later be determined as another would-be participant in the 9/11 attacks on New York City in 2001.
At an interview in Guantanamo in 2003, Qosi was asked to expand on his beliefs. He appeared to show great dedication to the jihadist cause and the Al-Qaeda leader. He apparently said it was his "religious duty to defend Islam and fulfill the obligation of jihad and that the war between America and Al- Qaeda is a war between Islam and [the] aggression of the infidels."
According to the Long War Journal, Qosi's position in the new video by AQAP is the same.
Qosi's case stands out among dozens of others at Guantanamo Bay – the US terrorist prison facility widely condemned for holding inmates for years without charge or trial.